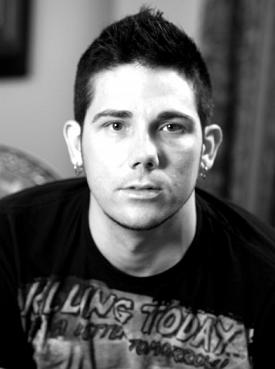 by Christopher Straub
Project Runway Season 6
Episode 2: "The Fashion Farm" or "High Fashion Hoe Down"
 
The designers are sent on a field trip to a farm…that's right…a farm.  The models are wearing potato sacks and THEY get to choose the designers that they want to work with.  Is this Project Runway: Idaho?  Good thing we're back in New York.
 
This is another one-day challenge.  I want to see time intensive pieces. ..just sayin'.  Also the designers still have not seen the inside of Mood Fabrics.  Thanks Mood.
 
Personally, I LOVE the idea of working with burlap.  I'd prefer to use unconventional materials when making pieces.  I've done dresses using circuit boards, produce, countertops, duct tape, tarp, and am working on a project right now using photo paper.
 
I've noticed that these models are more demanding than ours were on season 6 episode 3.   Let just hope they can trust the designers' vision and work the garments no matter what their personal thoughts are.
 
On the runway Heidi is wearing the shiniest potato sack ever made.  Perhaps it's a Bob Mackie.
Let's start the show…
(The following statements are made as the models are coming down the runway.  This is before seeing the top 3, bottom 3 and listening to the judges thoughts.)
Anthony: Red, strapless, short dress with folding in the skirt.  Totally adorable.  It has a very "Rose" quality to the whole thing.
Ping: Burlap sack thing.  Really?  With all the interesting things you know to do to fabric…THIS is what you're sending down?  Really?  AND YOU CAN SEE ELIZAVETA'S BOOTY!  REALLY? 
Ben: Pretty pink maternity (?) dress.  Very basic shape.  Nothing much to look at unless you're pregnant…or just want to look that way.
Mila: Black and silver short dress.  Was the dress made with those blurs where her nipples were or was that added later?  For real…what's with this show and exposing lady parts?  At this rate I'm sure we'll be seeing kitty sometime soon.
Anna Marie: Textured print dress with solid trim.  This dress would be a complete snooze-fest if it weren't for her printing technique…which I liked a lot.  Push it further next time.
Jesse:  Pants and vest.  Good for you for doing pants.  The whole look is very nice.  It looks like there are some issues with the finishing of the garments, though.
Seth Aaron: Hooded dress.  Some great Ideas went into this piece but there was just TOO many.  I like the grommets on the hood.
Amy: Short dress with dyed edges.  I'm not sure if I could love this dress any more than I actually do. LOVE LOVE LOVE.  It moves so well on the model while she walks.  Go Amy.
Janeane Marie:  Black and red strapless dress.  Way to make a comeback from last week!  I think the length and style of the skirt is perfect for the bust.
Jay Nicolas: Black V neck dress with textured skirt.  You know me…love the texture.  I don't like where the froo froo starts, though.  I would bring it up but that's just me.
Emilio: Patchwork dress.  Ok, I get it.  This guy likes to assemble his own materials.  The whole dress seemed to be twisted on the model.  Look at the straps and the bust line…weird.
Jesus: Brown and chartreuse dress.  I love the color combo and the use of contrasting fabrics.  I want to see more out of him, though.
Jonathan: Tan dress with black lace details.  WOW-Y WOW!  This is so sexy.  I would have liked to see something down the center back to make that as interesting as the front.
Maya: Um…dress?  There seems like a lot of stuff going on:  flappies; swoopies; trimmies; layers; colors; ugh.  I had such high hopes for Maya.
Pamela: Blue dress with stripe and back detail.  The front of this dress is the blandest thing I've seen so far…
My faves:  Amy and Jonathon
My NOT faves: Ping, Maya, Ping, Pamela, Ping
Judges like Jay Nicolas, Mila and Amy.  They don't care for Pamela, Ping, and Jesus. 
Top honors go to Jay…I would have given it to Amy.  Ping is in, for some reason and the judges send Pamela home…I guess I'm fine with that decision.
 
What's the lesson this week people?  Well, I guess it has to be "Push the envelope folks but please, PLEASE, cover your lady bits."
Find me on Facebook or follow me at twitter.com/schmistopher.  Be sure to stop by my webstore at www.christopherstraub.com
Project Runway airs Thursdays at 10pm ET on Lifetime.
For more Project Runway links, visit SirLinksALot.net