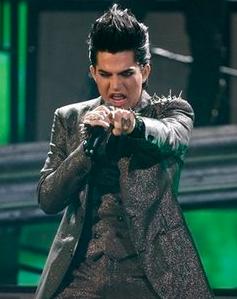 by Gina Scarpa

Following his sexually charged performance at the American Music Awards last month, ABC tried to keep Idol runner up Adam Lambert off of tv by banning him from several of their shows.  FOX, however, welcomed Adam back to their network with open arms and offered him the opportunity to perform on the upcoming season finale of So You Think You Can Dance.

The two night season finale will air Tuesday, December 15, and Wednesday, December 16.  The Top 6 dancers will compete on the Tuesday night performance show on the two hour live season finale the follow night, the votes will be tallied and America's Favorite Dancer will be named.  The winner will walk away with a grand prize of $250,000 and appear on the cover of the March 2010 issue of Dance magazine.

Lambert will sing his latest song, "Whataya Want From Me" off of his album For Your Entertainment.  It marks the first time the singer returns to FOX since the American Idol finale in May.

After cancelling his appearances on Jimmy Kimmel Live, Good Morning America, and Dick Clark's Rockin' New Year's Eve, ABC has finally lifted the ban on Lambert and will allow him to perform on The View this Thursday.  However, the performance is pre-taped because, according to Barbara Walters, "people seem to be afraid of what he'll do." He will also appear on Walters' annual special, 10 Most Fascinating People, this Wednesday.

Though Lambert has conceded that he may have gotten a little carried away during his American Music Awards appearance, he has made no apologies and says he has no regrets.


(Image courtesy of AP Photo/Chris Pizzello)


Follow Gina at twitter.com/gianscarpa

For more American Idol and So You Think You Can Dance links, visit SirLinksALot.net