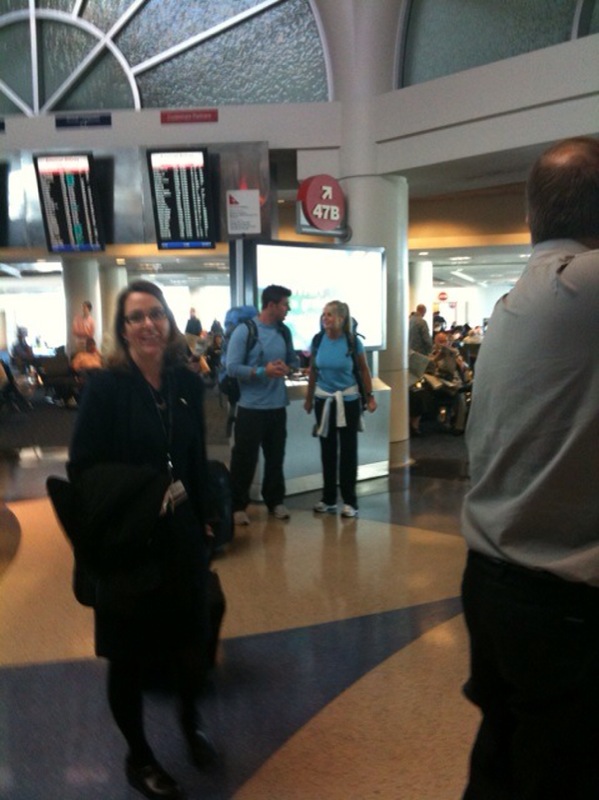 by David McAlpine
They always say a picture is worth a thousand words, but this one seems to be worth a whole lot more for the online community. Thanks to a faithful Big Brother fan, Big Brother 11's Jeff and Jordan (along with other large backpack-wearing, color coordinated couples) were snapped on their way through Los Angeles International Airport. Is there a chance that the Big Brother 11 sweethearts could be one of the couples on CBS' upcoming installation of The Amazing Race?
This wouldn't be the first time there's been a CBS reality crossover. Anyone who's an avid Amazing Race fan remembers the havoc that Boston Rob and Amber Mariano (the Survivor All-Star A-team) wreaked on the seventh season of CBS' Emmy-sweeping reality series. Oh, and we can't forget Big Brother 4's Alison Irwin and her boyfriend Donny.
So it's entirely feasible that the pair could be competing, especially since Jeff said in numerous interviews that he wouldn't be opposed to it. But there's also that Hawaii trip that he took from Russell during a competition in the house. Since LAX is a natural layover stop for travelers from both Chicago and North Carolina, it's possible that they just wanted to go...in matching outfits and huge backpacks. Right.
So if we're talking speculation here, the fan who snapped the picture said she saw them sitting in front of gates going to Chicago and Boston, which would indicate that they're at the beginning of the race. Personally, I've been in that gate area in LAX several times, because there are many flights from Chicago that leave from those gates. However, looking at the picture closer, right above Jeff's head, you can make out the logo of Qantas, the Australian airline. And the plane next to mine last time I was going to Chicago? It was headed to Sydney. Could this upcoming season be another reverse-direction route?
Well, CBS' official comment indicates that only time will tell. According to CBS, the cast of the new season will be released later next year, closer to the air date of the premiere. So, does the evidence speak for itself?
Stay tuned to RealityWanted for more updates about The Amazing Race, and be sure to tune in to CBS tonight at 8/7c for the latest episode of The Amazing Race!
(Image courtesy of Danielle Varey via Twitpic)
Follow David: @DavidMcAlpine
For more The Amazing Race Links visit Sirlinksalot.net