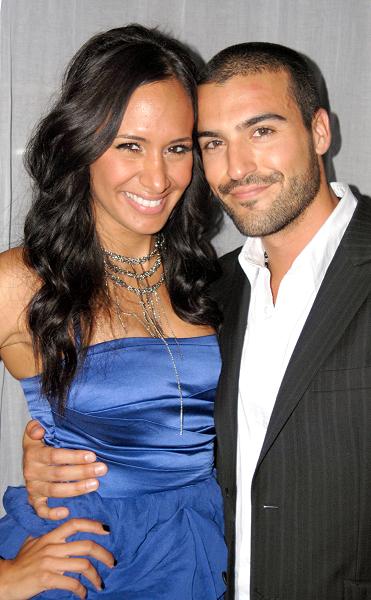 By Chandra Clewley
The Real Housewives of Orange County's Season 1 and 2 resident raven-haired beauty, Jo De La Rosa has been off of the show for four years (!) with just a few guest appearances in Season 4. Last year, her long time love and former fiancé Slade Smiley appeared with her in Date My Ex, a spin off in which Jo dated men that Slade had to live with! With Season 5 of The Real Housewives of Orange County upon us, we have found that Jo's ex-boyfriend Slade is now in a relationship with Gretchen Rossi. Gretchen, whose fiancé, Jeff Beitzel, died in 2008 of leukemia, has a controversial role on the show. Her antics include potentially cheating on Jeff with Jay Photoglou while Jeff was dying. Gretchen and Slade were introduced by Jo who was friendly with her through their real estate network and happened to cast Gretchen in her first video. Now, the lovebirds who Jo introduced while she was engaged to Slade herself, are the talk of the OC. These days Jo revels in the Los Angeles lifestyle! She is working on her music career, a movie, is the fresh face of a fabulous line of purses and is dating a hot new guy! While everyone expected the Gretchen/Slade relationship to go over like a lead brick with Jo De La Rosa, here she tells Reality Wanted why Slade did her the "favor"…
Q. Chandra, Reality Wanted: Will you make an appearance in Season 5 of The Real Housewives of Orange County?
A.  Jo: It is one of those things where, I left the show back in Season 2, and my life is so different now, who I am now compared to who I was 4 years ago. I live in LA now. There were talks of me coming on the show to confront Gretchen and Slade, but I need to be selfless at this point. Regardless of how I feel about them being together, this is Gretchen and Slade's time in the spotlight and I just want to move forward with my music. It would have put me back out there in the public eye, but for all the wrong reasons. I will forever be thankful for The Real Housewives of Orange County, because that is how I got my start, but I have my own story that I have to tell through my music, and for me to go back to confront the past just doesn't make sense.
Q. Chandra, Reality Wanted: Do you keep in touch with any of the other Housewives from the show?
A. Jo: You know what? I don't. The thing is, people never really understood, I was so much younger than the other women on the show. I was never really as much friends with them as I was working with them. I had my own friends that I went out with in LA, doing my own thing, and the show made it seem like we were all friends, but really, I had my own life with Slade. I have always felt like the black sheep in that group because they were so much older than me, with children and marriages and I was just a 22 year old girl, barely figuring out who I was. 
Q. Chandra, Reality Wanted: Did you feel stifled in your relationship because you wanted to be in LA when you were on the show?
A. Jo: I definitely had so much inside of me that I hadn't even tapped into at the time, but when I was engaged to Slade, I was engaged and I wasn't working.  I lost a lot of my goals, my dreams and my passions, and it wasn't until I was finally in the relationship with Slade and at home bored that all of those things kind of rekindled in myself. It was a wake up call, like "what am I doing?" I'm 22 years old, engaged, and I had always wanted to pursue my dreams of music. I was accepted into the UCLA dance program, so I was always interested in the performing arts. I ended up passing on the dance program, but I was always involved in music and dance. Most girls in my situation would have taken that ring and that car that Slade gave to me and they would have lived off of that, the difference is that I gave back everything, the ring, the car, all of what he gave to me and I started over in LA! Slade really did me a favor because it used to be all about "Slade and Jo", "Slade and Jo". Now it's "Slade and Gretchen". For the first time, I can be on my own terms as Jo De La Rosa.
Q. Chandra, Reality Wanted: How long did you two date? Even on Date My Ex, he was always with you…
A. Jo: We were together for five years. Here is the funny thing, some insider information: even though I was on the show; I was still in love with Slade. I was still trying to work things out. It was never really over for Slade and I. Even after Date My Ex, Slade and I were still trying to work it out and then….came Gretchen. 
Q. Chandra, Reality Wanted: I know that Lauri dated Slade for a little bit before she was married. Chronologically, when did this happen?
A. Jo: Slade and I were on a break, and he started dating Lauri. And then we tried to get back together…Lauri and I had a conversation about it on camera, and then here we go again with Gretchen…
Q. Chandra, Reality Wanted: On the show, Gretchen said that she called you to let you know about her and Slade, even though he had said not to. Is this accurate?
A. Jo: She called me because I found out from her ex-boyfriend Jay that Slade and Gretchen were hooking up. So the whole reason she called me was because it was already out. She actually called me when Slade was in jail and she was asking for help. (Smiley was arrested in February 2009 for unpaid child support, purportedly at Rossi's Costa Mesa home.)  I was just like, "How can you call me and ask me for help when I just found out that you are sleeping with Slade?"  The truth of the matter is that it is what it is, and Gretchen, to me, is…it's just dumb. We were ALL friends, you know, no matter how close we were, I just wish they would have come to me first, without me having to find out the way that I did. Even being able to talk to Slade on it, one on one, but they didn't even give me that.  I just have to move forward, and not have a confrontation on camera. He was the love of my life, and she knew that. I was with him for 5 years, we were engaged, I acted as the mother of his children, and I was building a life with this man, and she was the girl that I knew, and you know what it is, at the end of the day, I just hate the way it all came down and came to an end. Slade and I are no longer even friends, and I haven't even been able to talk to him face to face about it, and I know that is because of her (Gretchen).
Q. Chandra, Reality Wanted: How is your second album going? When do you expect it to be out? 
A. Jo: I am in the studio, working on the second album, working on the second single, and writing. I feel like a lot of girls can connect to the music I am writing, it is a different sound. It's a bit more edgy, "girl anthem", with some country and pop-rock in there. Also, I had always wanted to be involved in a handbag campaign and so I am doing one for Rough Roses as well. I always thought that would be so cool to be that "face", like Rihanna with Gucci, for a fashion line. It's awesome, I was coming down Sunset Blvd. and I saw the big billboard, and there was my face! More than anything I loved his bags, the style of them, they are studded and leather. I like the earthy feel of them. 
Q. Chandra, Reality Wanted: So, I have to ask, are you dating anyone?
A. Jo: I have been dating the same person for awhile now. He is super hot! Jeff was walking out of a club as I was walking in, and when I saw him, my heart just dropped. He was walking away, and he was wearing a fedora, and I thought "I have to talk to this guy!" So, I just yelled out "hey, you, fedora boy!"  He is not in the entertainment industry, he is a little bit younger than me, and he is hot! I am really happy right now and things are going great in my life! 
Jo is also getting ready to co-star in a movie called Changing Hands (www.changinghandsfilm.com) produced by actor Scott L. Schwartz. The release date will be later this winter.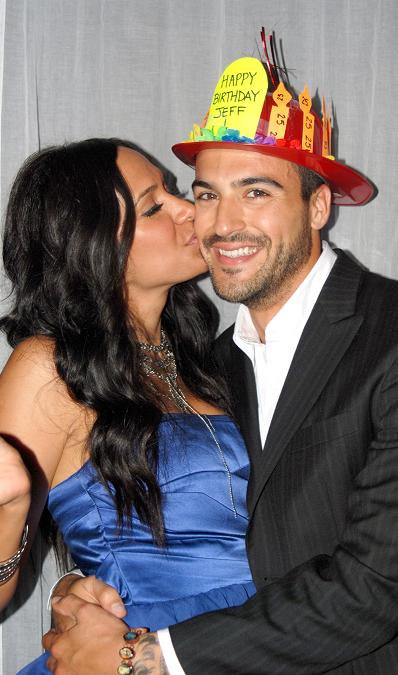 (photos courtesy of Koi Sojer)
For more The Real Housewives of Orange County visit Sirlinksalot.net