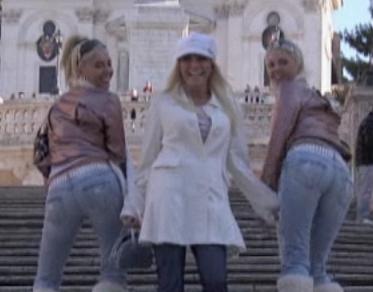 by Danae Young
This week on The Girls Next Door, Crystal plants a garden with her friend Melissa and her mother.
Hef asks the twins if they want to be in a movie as twin dancers. The twins take a pole dancing class to prepare for their movie role but they aren't doing so well.
Crystal goes to a photo shoot to test to be a playmate. She got super nercous to pose and possibly get rejected but I think she looked great! Very beautiful and sexy.
Only 12 girls make it to be a playmate so there is a chance she won't be one of them even though she is Hef's girlfriend. But, she still gets it!
The twins need to get up early for pole dancing choreography but Kristina has a hard time getting up. They meet the director, Sofia Coppola, to show her their pole dance routine. Hef and Crystal come downstairs to watch too. Everyone loved it and the girls actually got pretty good at it. They even have some bruises to prove it.
Crystal had a centerfold shoot right after her good friend Melissa, who is a cybergirl living in the Bunny House, had a shoot. Hef and the twins showed up to the studio to see Crystal's shoot.
Then the four of them go to dinner to celebrate Crystal's playmate shoot as Miss December and all of her friends are there, too.
She even gets a super cute pink bunny cake! Jealous!
Watch all new episodes of The Girls Next Door Sunday nights at 10/0c on E!
(Image courtesy of E!)