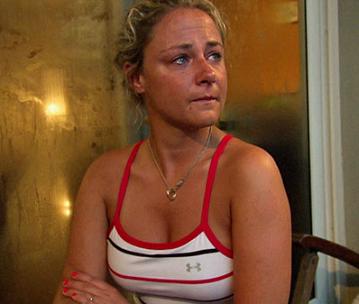 by Matt Anaya

This week got a little crazy on The Ruins as Tonya, Veronica, and Katie all got into verbal altercations with one another. As fans of the show we all love (to hate) those girls for separate reasons. Tonya is insane, Veronica has a horrible attitude, and although I actually like Katie, I know a lot of people that do not because she is a bully.

All three showcased their skills this week as Tonya got super drunk and started a fight with Veronica. She is still upset at some comments Veronica has made in the past and we all know what happens when Tonya drinks. Plus, whenever these two are involved in a verbal fight, it is not going to end nicely and someone is probably going home.

Obviously Veronica did not shut her mouth and said hurtful things in the past and on tonight's show, which led to Tonya knocking her noodles out of Veronica's hands. More things were said and Veronica, always up for instigating, said something like, "have you ever known me to keep my mouth shut?!" Nope, never Veronica, you are always up for a fight.

One thing led to another and Tonya inevitably lost it and slapped Veronica. Peace out Tonya, you know the drill. A field producer promptly took Tonya away and sent her home. The Champions are now in jeopardy of losing three players this week.

On to Katie, she got really upset with Kenny and Evan for putting a dirty plunger in her bed. It started with a silly joke that went too far and ended up with a drunk Katie embarrassing herself, screaming and yelling at everyone, and kicking Sarah out of a room because she was laughing at her.

I understand how mad Katie was but she was super drunk and only bullies kick people out of rooms. I do not know what I would have done in Sarah's situation, but I would have not left the room as peacefully as she did.

OK, now to the challenge. Stunningly the Challengers had a great chance to win this event but in epic Challenger style, they blew it. Casey brought the team down and struggled to figure out how to unhook something in the water. It was pretty funny to watch her struggle, as Kenny and Evan will be the first to tell you.

The Champs get to pick the elimination matches and Darrell nominates himself and picks Danny, who I said would be eliminated last week. Katie also nominates herself and wants to pick Casey but she is so bad the Champs want her to stay on the Challengers. Katie picks Sarah and remember karma is a bitch.

In what was a highly contested match filled with insults and other "trashy" things, as Kim said, Sarah defeated Katie. Sarah was pumped and after winning and taking Katie's money becomes the richest competitor.

Darrell and Danny fought hard in their elimination challenge but I have always thought Danny is full of fake muscle (fat) and I knew Darrell would handle business. Darrell won in a tight match and sent Danny home, who was a good sport about it.

Power Rankings
1. Evan is the boss of all bosses.
2. Kenny is Evan's sidekick, perhaps more.
3. Wes has kept his mouth shut for two weeks, which is why he jumps two spots.
4. Susie has never lost a challenge and it does not look like that streak will end soon.
5. Dunbar is a classy competitor, which is why he finds himself near the top.
6. Derrick is a veteran and a champion, both reasons why he is near the top.
7. Darrell jumped up the power rankings because he proved himself this week.
8. Johnny Bananas has not done much but spark controversy and I am looking forward to seeing him get challenged at some point in the season.
9. Syrus did not do much this week but proved himself last week.
10. Sarah is a babe and proved herself in the elimination challenge.
11. KellyAnne would not be Wes' GF if she did not have a little fight in her.
12. Brad is one of three dudes left on the Challengers, which means he will be up for elimination every week.
13. Cohutta seems lost but he is still sticking around and has a chance although he is one of the three dudes left on the Challengers.
14. Johanna was not on tonight's episode, weird.
15. Veronica looks like she is on the way out.
16. Kimberly is sticking around but it wont be for long.
17. Casey might be around a while but she is there because the Champs refuse to vote her in because she is so bad.
18. Ibis has been near the bottom since the show started.

Sidenotes
- I think Veronica will be going home next week and her and Evan's relationship lasted one week.
- I also think Cohutta will be sent packing.
- What started as a main theme has cooled in the last two weeks, as Wes has kept his mouth shut and competed to win.
- Katie announced this would be her last challenge. Yeah right babe, but she recently Tweeted she is going back to school.
The Real World/Road Rules Challenge: The Ruins airs Wednesday nights at 10pm ET on MTV.
(Image courtesy of MTV)
Follow Matt at twitter.com/ShmattShmanaya