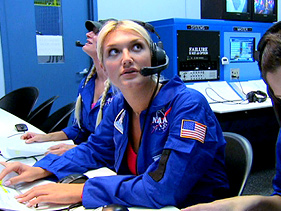 by Natasha Karaczan
Tonight on Brooke Knows Best the roommates go to space. Ok maybe not actual space, but they do get the royal backstage pass to go through astronaut training at NASA. Hulk's girlfriend Jennifer was so cute when she was making sure he was fed before they trained. She really does take good care of him. I still cannot tell her and Brooke apart though.
Glen has a new love named Daniel who is a sexy fitness model. Even though they have only been dating for three weeks they are constantly calling and texting each other.  It makes me miss being in love. I just don't like that Glen couldn't concentrate at all and even had people watching his phone in case the BF called. Being that clingy that soon into a relationship can be a bad sign.
The moon walk simulation was hilarious. Glen and Brooke looked ridiculous and were bouncing out of control. I would have been sick on that flight simulator that just spins you around. It was really gross when Brooke was talking to Jennifer about rocket control, and said she didn't want to hear about Jennifer controlling Hulk's "rocket." It was completely out of nowhere and really inappropriate.
That's your dad Brooke, you don't think about that stuff.
The mission simulation was by far the coolest. Ashley may have a career in mission control. She was yelling out commands and seemed like she had done that before. Hulk and Glen had no idea what they were doing. Glen was again focused on texting Daniel, and Hulk was so confused about what button did what. Glen was really getting pissed at Brooke. She was being super annoying by making fun of them the entire time.
When it was Brooke and Ashley's turn to act as pilots on the fake space shuttle, Brooke was a total spaz. She had no idea how to steer the shuttle and Ashley was just going with it. It was funny to watch them try and play astronauts. I don't think any of them should quit their day jobs though.
I love that Hulk is concerned about Glen and wanted to meet Daniel. He was laying on the questions just like he does with Brooke's boyfriends. Daniel was handling himself well until he did that weird robot voice from a movie he was in. He and Glen do make a very cute couple.
 
Can't get enough of the roommates? Watch Brooke Knows Best every Sunday night at 10pm only on VH1.
(Image courtesy of VH1)