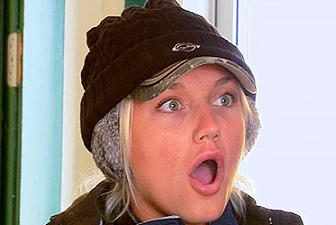 by Natasha Karaczan
On tonight's episode of Brooke Knows Best, Glen gets invited to speak at his high school about coming out on the show and his experiences since.  Brooke and Ashley agree to tag along to support him. Glen's parents are so sweet. They are so accepting of him and it is nice to see that.
I just don't understand why Glen was afraid to tell his parents about his boyfriend. I get that his dad seems to have a temper, but Glen is his son. If they support him being gay then they have to know that he will have a boyfriend.
It was hard to watch him talk to his ex-fiancé. She really didn't know that Glen was gay. Glen should have told her why he called off the wedding earlier. This poor girl was probably blaming herself for years, only to find out on a TV show that her ex is gay. Not cool!
How gross was Brooke sticking her hand up a cow's rear end? I feel like only professionals should be impregnating and birthing cows. I do love that Brooke was so loving toward the calf. It showed the animal-lover side of her.
Glen was getting super emotional talking to his mom about being gay. She was so right in saying that "love is love." His mom even agreed that Glen's dad would be accepting of Daniel. I feel like the talk was long over due.
Daniel meeting the parents went well. It was awkward when his dad was talking about blow up dolls though. Glen was relieved to just have the whole situation out in the open. I'm glad he doesn't have to stress about hiding his sexuality in front of his parents.
Public speaking is terrifying to begin with, let alone having to speak about something so personal. The superintendent gave him an amazing introduction. The speech was geared toward accepting who you are, and following your dreams. It was straight from the heart, and the students seemed receptive.
Glen needed to hear from his dad that his parents were proud of him. In the back of his mind he doubted whether he truly had his parent's approval. A happy ending once again for the roommates.
To watch more of the roommates, check out Brooke Knows Best every Sunday on VH1.
(Image courtesy of VH1)