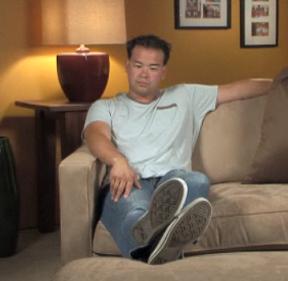 by Gina Scarpa
TLC has been promoting tonight's special one hour episode of Jon and Kate Plus 8 for the last week.  The couple apparently has a big announcement and some major changes to their lives… hmmm, what could it be?  As soon as things get rolling, it's obvious that these two are headed for Splitsville.  It certainly doesn't come as a shock to anyone since you can't turn your head without seeing them on television or the cover of a tabloid magazine.  Before we can tell that part of the story, though, we have to backtrack a bit.
Jon and Kate found this cool company where the kids can design their own playhouses and then a company delivers them to be put in the yard.  Jon wants to put the playhouses in the back woods but Kate wants them in the yard.  She feels that one parent needs to be able to keep an eye on all the kids at one time, which means that she's not planning to have two parents around too much longer.  Kate wins that battle, with the help of the men from the playhouse company, and convinces Jon to put them where she wants them.  While everything is being set up, the kids play happily in the yard, unaware of the painful changes that are about to come their way.
All of Jon and Kate's interviews tonight are separate from one another.  Jon says that he and Kate have been having communication issues while Kate admits to being short tempered and angry at times.  That's her survival mode, though, she says.  Kate's honesty is refreshing to hear and perhaps she'll work on those things as she moves forward with her life and her kids.
The houses sound fun in theory but all the kids do is kick each other out of them and slam doors in each other's faces.  How lovely of them.  Whoever this company is that made these houses is getting a hell of a promotion in this episode, are they not?
It seems like this is Jon's decision to leave.  Kate says that he's been angry with her and that he doesn't realize the repercussions of his actions.  The problems between the two have been going on for quite some time and been building to this point.  It's obvious that this has been tough on them, though it seems to hurt her more than him.
The big announcement: Jon and Kate are separating.  The kids will remain in the house with Kate, during her time with them.  When it's Jon's time, it seems he'll come to the house and she'll go somewhere else.  It's definitely a different arrangement but Jon admits that already hasn't been around much lately.  Kate expresses that she's fearful of being alone and that people will view them as failures.  Anybody who has been through this kind of situation can understand where she's coming from.
The two reflect back on their favorite Jon and Kate Plus 8 moments then discuss where they go from here.  Divorce proceedings have started today.  Kate wants to see the kids on every holiday and every birthday.  The show will go on but they'll continue to do their interviews separately.  Tonight, though, Jon and Kate put their differences aside to take their kids out for a nice brunch.  It's a relief to see that they are able to leave their personal issues with one another behind in times where their kids need them.  Hopefully, down the road, they're able to find some peace. 
In the meantime, the show must go on...
Jon and Kate Plus 8 airs Monday nights at 9pm ET on TLC.
(Image courtesy of TLC)