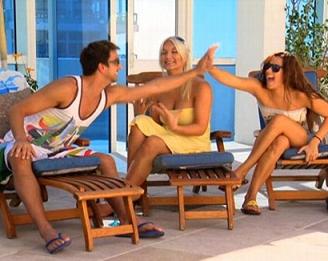 by Natasha Karaczan
Tonight on Brooke Knows Best, Ashley and Brooke get scammed into being treated like high class hookers. When an Italian guy tells Ashley he will pay her and Brooke 20 grand to "make an appearance" at his party, all she can see is dollar signs. Ashley should have known this guy was a creeper based on how he was talking to her. He would go out of his way to say things like, "ciao bella."
Once they get on the yacht, Brooke is immediately suspicious. She should have gone with her gut instincts that celebrity appearances usually require an agent.  Who just hands someone 20 grand in cash? To answer my own question, I would have to say drug dealers, the mafia and creepy dudes.
My favorite was when they found out the girls on the boat were paid to be there and were ok with being treated like prostitutes. These girls were kissing and pouring oil all over themselves and the creeper. Brooke looked pissed at Ashley for getting her into that. She had every right to be because Ashley should have figured out exactly what the details were.
I did also like when Ashley and Brooke went downstairs to get away from the creeper and he said they were playing hard to get. The mirror above the bed was classic. Did they expect anything more from a guy who hires girls to make out with him and gives them cold hard cash? Brooke said it best when she said they were basically being treated like high class hookers.
The best decision they could have made was to get off that boat. Brooke was right for giving the guy his money back. They do not need him having leverage over them. It wasn't even worth it. He was expecting action, and I'm sure those other girls gave it to him. I would have kicked Ashley's but for getting me into something like that, especially when they found out they were in the Bahamas!
Thank God that guy with the boat let them charter with him. I don't understand how they didn't even know the captain but they got right into their bathing suits. It had to be because the camera crew was there. If they were alone I doubt they would have done any of that stuff. They have cell phones; they should have called Glen or Hulk. Speaking of which, after seeing this episode I bet Brooke got a major talking to, and the creeper is no longer.
It was awesome watching Brooke and Ashley swim to their house because they didn't want to wait to get to the marina. Brooke was clearly pissed and not in the mood to deal with anything. Ashley is never allowed to make the decisions about what they do ever again based on Brooke's attitude.
Can't get enough of the roommates? Watch Brooke Knows Best every Sunday night at 10pm on VH1.
(Image courtesy of VH1)

For more Brooke Knows Best Links visit Sirlinksalot.net