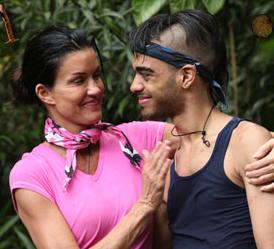 by Natasha Karaczan
It's week two of I'm a Celebrity, Get Me out of Here and Heidi and Spencer are back and so is the drama. I love that Spencer is a reformed Christian over night.  I agree with Daniel Baldwin when he was saying that Spencer is hypocrite. One minute he is praising the Lord, and the next minute he is threatening Janice for criticizing Heidi's singing.    Janice is right though, she does sound like a drowning cat! I'm pretty sure Spencer is the only person in the world who thinks she should have a music career.
Francis deciding to leave was a surprise because she seemed to be having fun. I know that her best friend Angela was voted off last week, but she is strong enough to stand alone. Her excuse was that you can't break up a comedy duo. Maybe she will pull a Speidi and come back.
Heidi opening up about her past made me sympathize with her. From what I've seen on The Hills it seems like she comes from a rich family. I did not know that at one point she couldn't even afford ramen. As far as her wanting to be a missionary goes, I'll believe it when I see it. If Heidi and Spencer couldn't even handle the jungle at first, I doubt they will be able to go to orphanages and see starving children who live their lives in these same conditions.
I feel really bad for Patti. She is generally just a good person, loving mother and supporting wife. She says the show is a distraction from her problems at home, but how do you forget that you may lose your home? In every episode though she is positive, and stands behind her husband 100 percent. I'm glad she is opening up about the problems with the Impeachment system. I did not know that the impeached person cannot present a case on their behalf.
The "Flash Flood" challenge was crazy. Sanjaya handled it like a pro. It must have been hard concentrating on opening those locks when their tanks are filling with water and there are reptiles swimming around them.  Janice caving was disappointing. She talks such a big game, but couldn't even finish the challenge. Another loss for the girls meant another night of rice and beans.
Sanjaya proclaiming himself "jungle boy" was interesting. He is using his skills to make ink, paint, bracelets, brooms, etc. He seems to be the only one actually enjoying himself.  No other contestant has consistently been in a good mood. Who knows, he may just stay there when the show is over.
In Speidi drama, Heidi was rushed to the hospital to be treated for dehydration and vomiting. If Lou Diamond Philips thinks she is really sick, then it can't just be an act. Spencer was awfully quick to suggest leaving the jungle though. He didn't seem to be distraught at all in his final confession. I guess the "new" has some characteristics of the old Spencer after all.
The camp leader challenge was predictable. The girls need to step up their game. If Tori, Janice and Patti do not start pushing themselves, they will never win anything. I wanted to smack John for talking trash to the other cast members during the challenge. Just because he is a vegetarian doesn't mean he can call people names that aren't. Everyone was aware of what they were eating. They did not need him reminding them every ten seconds, and saying how disgusting it is.
I respect John for not just talking about how important his charity is, but for actually giving his time. He said the he has donated many hours to visiting the children at Cedar Sinai. Torrie giving to the veteran's charity was a surprise. I like that she realizes that without our vets, we not have the freedom we have in this country.  Stephen's charity Love 146 helps young girls that were sold into sex slavery. It really touched me that he realizes what an important issue this is, and wants to help there girls.
The men sharing their food with the girls finally caught up with them. Janice had no reason to complain about not getting a piece of their prize. She quit the competition and Sanjaya stuck it out. If the girls want to eat lobster then they need to star winning and not whining.

   
I'm A Celebrity, Get Me Out Of Here airs Monday-Thursday on NBC.
(Image courtesy of NBC)