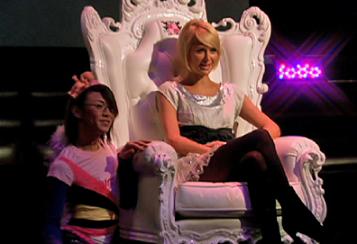 by Danae Young
This week on the premiere of Paris Hilton's My New BFF, Paris is looking for a new hottie to be her new bff because her ex-bff was a "hungry tiger." Basically she was starving for attention and didn't care enough about being a true friend to Paris, which is obviously most important, duh! Casting calls are over and the final group is chosen, and might I say, what an interesting group of people to say the least.

There is Nicole the bikini dancer, Stephen the gay mormon, Desire the Texas toughie, Gina the Brooklyn badass, Arika the Japanese princess, Katie the punk rock princess, Kaitlin the tiny trouble, Stefanie the love child, Rahcel the hair, Arielle the Jersey girl, Amanda the cheerleader, Tiniecia the mouth of the south, Elena the girl next door, Kristen the big and beautiful, and Monica the wild style.

The group arrives in Las Vegas and when they arrive, Onch is there to greet them! He is back from last season as Paris's little pet. Everyone loves Onch so I was totally excited when I saw that. The group splits up into vans and is taken to a hotel room where they can all hang out. Little do they know that Paris is already amongst them under cover to get the inside drama. While at the hotel room, two men who appear to be overly muscular bell boys bring two carts loaded with all sorts of foods. However, they remain in the room where they proceed to turn on some music. Everyone looks to see where it is coming from and the two men start stripping!

After the crazy strip tease, the group takes off again on their first dare, a show and tell. Mean while, Paris remains under cover. A fake Paris sits up in the throne and watches as everyone does their show and tell routine. One of which stands out more than the others-Rachel's show and tell was described by the real Paris as "a one way trip to creep town."

Show and tell ends and everyone finds out about Rule #1: Stay composed at a party. The group is taken to a club without Paris there, or so they think. Rachel once again stands out making a fool out of herself as she clumsily falls in front of the entire party and flashes everyone her underwear. If you ask me, that's not exactly composed.

The next day it is time for another dare. At this point they now know that Paris has been under cover. The group is taken to meet with Paris, Onch, and…a REAL tiger?! That's right! The challenge is that each person must go up and pet the tiger. Paris judges according to the tiger's reaction toward that person. Once again, Rachel fails to succeed and is eliminated early.

The group is taken to their next dare-a stripper pole contest. Kristen is surprisingly super confident on the pole for her size. Stephen starts to cry and wont do it so he will be up for discussion along with Arielle and Amanda at elimination.

At elimination that night, Paris asks the three people why they think they should stay. We all know most, if not all, of them are there for the fame so it was interesting to see what answer they were going to come up with. Amanda says she will do anything and everything to be Paris's bff and Paris decides to keep her because she did the splits on the pole and she likes a friend that can do freaky things. Stephen gives some speech about how he wants to have his own pet orphanage and doesn't want to exploit Paris. She buys the speech and keeps him but tells him he has to jump in the water for her since he would never do it in gym class. As for Arielle, her speech on how she wants to stay to make more memories with Paris just wasn't enough so it was time to say TTYN.

Catch all new episodes of Paris Hilton's My New BFF, Tuesdays at 10pm ET/PT on MTV.
Video Interview With Paris Hilton Of MTV's My New BFF Season 2 with RealityWanted.com
(Image courtesy of MTV)
For more BFF Links visit Sirlinksalot.net