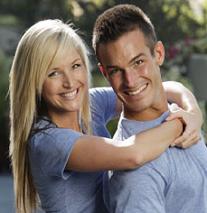 On last night's episode of The Amazing Race, Kris and Amanda were U-Turned by Margie and Luke, costing them the game.  After building shutters and installing them on a house, the duo was forced to back and complete the other Detour task, building a wall of wood.  At the time, they had no idea who sent them back and were surprised to find out, after being eliminated, that it was Margie and Luke who did it in order to save Jaime and Cara.  Today, Amanda and Kris spoke to RealityWanted in an exclusive interview and shared their thoughts on the shady move that sent them home.
Q. Gina, RealityWanted: Well, what a crappy deal you guys got last night!   I'm wondering what your thoughts were when you watched the episode back, when you found out that Margie and Luke were the ones who U-Turned you?
A. Amanda: Well, we actually already knew 'cause when you get eliminated, you get sent to sequester.  That's when we found out it was Luke and Margie and we were really surprised.  Something that didn't show was, when we were in Romania the day before, we all went to lunch, the whole cast.  After lunch, Margie and Luke were walking with us and she said, "I just wanna let you guys know that, at our table, we were all talking about the U-Turn and all the teams at the table, including Luke and I, said we would not use the U-Turn.  We didn't wanna use it.  Jen and Kisha were the only team that we'd be stupid not to, that we should definitely use it."  So when we saw we were U-Turned, we thought it was Jen and Kisha.  When we found out it was actually Luke and Margie, we felt like we were really deceived.  The fact that she came up to us and went out of her way… it was just unnecessary. 
Q. Gina, RealityWanted: Did it add insult to injury when you found out that they did that to you in order to save another team?
A. Kris: We actually didn't know that until we watched last night.  We were just like, "Woah… why?"
Q. Gina, RealityWanted: Which of the two tasks was more difficult, building the shutters or building the wall?
A. Kris: Building the wall was definitely harder.  It was more strategic and you really had to place the wood exactly the right way.  
A. Amanda: Building the shutters themselves took us five minutes, maybe less.  We put it together so fast.  That part of it was easy.  It was just finding the place that was hard.
Q. Gina, RealityWanted: Are there teams currently in the race that you are rooting for and are fans of?
A. Kris: Yeah, we definitely had a good bond going with Mike and Mel.  They were with us for a lot of our traveling that they didn't show.  We were around them a lot and got to know them really well and they were our buddies on the whole thing so we were rooting them on afterwards.
Q. Gina, RealityWanted: Usually, when young couples race on the show together, they fight the entire time and it gets annoying.  The two of you were completely different.  What was your approach going into the show?
A. Amanda: Kris and I have been together for over three years so we knew each other so well.  It wasn't like we were going to find out something we didn't know about each other.  We went into like, "We hope we don't fight, we don't think we will, but we'll try our hardest."  We're always together, we do everything together.
A. Kris: Our whole approach, going into it, was that this was a once in a lifetime opportunity.  For us, that was the biggest thing.   We didn't wanna ruin it by bickering with each other.  It just wasn't worth it.  We wanted to have fun.
Q. Gina, RealityWanted: If you guys had not been U-Turned, do you think the two of you would have made it all the way to the end?
A. Amanda: As you can tell, a lot of it is luck.  It's the luck of the draw.  You can get a cab driver who speaks English and you can find a travel agent or use his cell phone.  Other times, you can get a cab driver who doesn't speak English and who won't let you use his phone.  Little things like that are crucial.  Who knows how things liek that would've played out?  But we were confident.  We went from 5th to 3rd to 2nd.  We were progressively moving forward.  Every task, we did great in.
A. Kris: After being U-Turned, we only came in 10 minutes behind Mark and Mike.  If we weren't U-Turned, we would've blown by them.
New episodes of The Amazing Race air Sunday nights at 8pm ET on CBS.
(Image courtesy of CBS)
For more Amazing Race Links visit Sirlinksalot.net