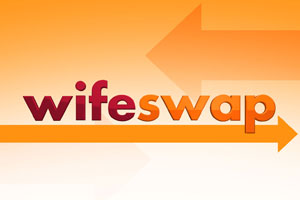 This week in "McCaslin-Deekens," a woman who can bench press 341 lbs swaps lives with a woman who believes that a lady never lifts any sort of weight and that sweating is for the beasts, on "Wife Swap," FRIDAY, DECEMBER 26 (8:00-9:00 p.m., ET) on the ABC Television Network. Each week from across the country, two very different families take part in a two-week-long challenge: The wives exchanges husbands, children and lives (but not bedrooms) to discover what it's like in another woman's shoes. It's a mind-blowing experiment that often ends up changing lives forever. (Rebroadcast. OAD 10/10/08)

The McCaslin family from New York State live by the motto, "whatever it takes." Wife Sandi (43), husband Zane (37) and daughters Sarah(16 ) and Kerri (12 ) all hold benchpressing and powerlifting records. They live in an old converted school and spend most of their time together training in the gym - pushing each other on to their next big lift. Outside of the gym, life for the McCaslins is easygoing and full of practical jokes; they live in sweats and really don't care what others think because ultimately they have each other. The family invite their friends round for "Gameland" - an raucous evening of board games, joking and playful insults. The only thing Sandi would change about her family is the girls' aversion to chores.

Meanwhile on a quiet street in Virginia, the Deekens live a life of quiet and calm gentility. Wife Donna (57) is on a one-woman mission to bring femininity, etiquette and the ladylike art of tea parties to the girls of Virginia. She presents her tea parties in a range of personas, dressing as a princess, a Victorian lady and a fairy queen, and prepares thoroughly for each tea - counting out tiaras, testing flashing wands and personally picking up the specially decorated cakes. Husband Bill (55 ) and son Greg(18) find her obsession silly and childish, but that doesn't stop from Greg helping out behind the scenes or spending money. In the Deekens' house, the family lead separate lives, coming together for quiet meals and their sedate daily walk - where spotting a squirrel is a cause for excitement.

In the first week of the swap, Donna is plunged into the McCaslins' testosterone driven world of weight-lifting and struggles with the idea of young girls benching more than most men. Meanwhile Sandi finds the world of tea-parties slightly ridiculous and breaks down when she realizes the lack of support Bill and Greg give to Donna's dream. In the second week, when the wives change the rules and turn the tables, Sandi resolves to change everything in the Deekens' home for Donna, and Donna finds the true meaning of family support with the rough and ready McCaslins. At the end of two weeks, will Sandi succeed in showing Bill and Greg the meaning of family? And can Donna turn the bench-pressing McCaslin girls into demure little princesses?

"Wife Swap" is an RDF USA production. It was created by Stephen Lambert and is executive produced by Stef Wagstaffe and Michael Davies of Embassy Row. Mike Gamson and Stephen Pettinger are the co-executive producers. "Wife Swap" is broadcast with Spanish subtitles via secondary closed captioning. This program carries a TV-PG,L parental guideline.
(Photo courtesy of ABC)