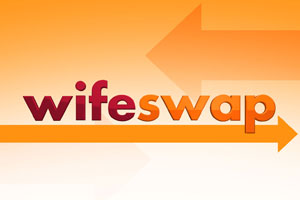 "Brown/Neighbors" - A self-described "supermom" who manages her children's every waking moment swaps lives with a free-spirited mom who would rather dance with her kids than check their homework, on "Wife Swap," FRIDAY, NOVEMBER 7 (8:00-9:00 p.m., ET) on the ABC Television Network. Each week from across the country, two very different families take part in a two-week long challenge: The wives exchanges husbands, children and lives (but not bedrooms) to discover just what it's like to live in another woman's shoes. It's a mind-blowing experiment that often ends up changing lives forever.

The Neighbors family know that appearances are important and that, if anything is worth doing, it's worth doing well. Wife Jessica (36) and husband Alan (48) studied the art of parenting and are totally involved in their children's lives, which means going to school every day to check their kids' desks and meet with their teachers. At home in Idaho, daughter Kassidy (11) and son Kaden (9) have a rigid routine of gymnastics, soccer, music lessons and chores. The children's performance is monitored by Jessica's intricate star chart system; if the children win enough stars, they earn a pizza and a movie. Safety is a priority to Jessica, so the children are never left unattended and both are buckled into booster seats for every car trip, even though Kassidy now finds this embarrassing.

Meanwhile in Ohio, the Brown family lives a chaotic life of yo-yos, rock music and taking life as it comes. Wife Marlee (28) is a freelance graphic designer juggling a heavy workload with her two boys, Maverick (2) and Zane (12). Husband Steve (32), a yo-yo champion who performs in a tutu when he's not working long hours in the family's zany shop, believes the best way to teach responsibility to kids is to leave them free to turn the house upside down. Steve is Zane's step-dad, and his hands-off approach to parenting means the two have a distant and uninvolved relationship, while Marlee is too busy trying to keep her job, her boys and the house together to do anything about it.

In the first week of the swap, Jessica is uncomfortable with the chaos in the Brown home; she can't believe the lack of parental involvement and insists on picking Zane up from school. In Idaho, Marlee is upset by the pressure she feels Alan is putting on his kids, and confronts him after he shouts during their gymnastics and soccer practice. In the second week, when the wives change the rules, Jessica takes Steve back to school to teach him how to parent, while Marlee forces Alan to put on a vest filled with weights so he can feel the weight of his kids' worries.
 
At the end of the week, will Jessica bring Steve and Zane closer with her parenting expertise? And will Marlee convince Alan to ease up on his kids?

"Wife Swap" is an RDF USA production. It was created by Stephen Lambert and is executive-produced by Mike Gamson, Stef Wagstaffe and Michael Davies of Embassy Row ("Who Wants to be a Millionare"). Stephen Pettinger, Neil Regan, Julie Cooper and Will Nothacker are co-executive producers. "Wife Swap" is broadcast with Spanish subtitles via secondary closed captioning. A TV parental guideline will be posted closer to airdate.
(Photo courtesy of ABC)