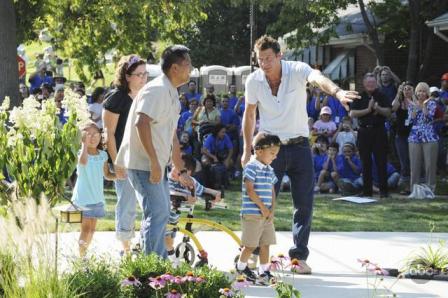 "Martirez / Malek Families" -- Ty and the "Extreme Makeover: Home Edition" designers will be visiting both St. Louis and Ballwin, Missouri to give Dawn Martirez a safer home for her special-needs children, and to remodel Sam Malek's coffee shop that employs disabled individuals and donates a portion of its earnings to charity. "Extreme Makeover: Home Edition" airs SUNDAY, NOVEMBER 9 (8:00-9:00 p.m., ET) on the ABC Television Network.
Dawn Martirez was a beloved and dedicated pediatric cancer nurse who cared for terminally ill children all her life. Little did she know that her medical experience would prepare her for the care of her own children. After she and her husband, Emmanuel, had their daughter, Elle, she became pregnant again with twins Evan and Alec. Evan has an extremely rare genetic condition called 9P minus, and Alec has another uncommon genetic disorder known as Crouzon Syndrome. Even though the doctors warned of severe complications, Dawn refused to terminate the pregnancy. Both twins suffer from skeletal abnormalities that require extensive corrective facial and cranial surgeries, with Evan having physical handicaps and mental retardation, and Alec being profoundly hearing impaired. Dawn had to stop working as a nurse in order to take care of the twins full time. As the boys get older, the home's cramped narrow hallways, steep stairs, crumbling driveway and single, handicapped inaccessible bathroom are posing great problems for them and slowing their development. Now it's up to Ty and his designers to equip the Martirez's home to accommodate the twins' special needs.
Sam Malek has endured 29 surgeries for his cerebral palsy over the past 40 years, beating the odds so many times. In April of 2007, he took out a second mortgage on his home to purchase a small coffee shop that insists on their motto, "Helping Challenged People One Cup at a Time." At "More Than Coffee," Sam employs disabled individuals to help him in the shop and donates a portion of the profits to local charities. However the condition of the shop makes it hard for him and his employees to work, for its cramped space, termite infestation and lack of proper equipment hinder their potential. Ty and his designers will have to step up to the challenge of making over Sam Malek's shop while working on the Martirez home at the same time.
While Ty and the designers, local builder is Callier Thompson Shea Construction & Design, LLC, Consolidated Construction Group Inc and hundreds of volunteers and workers are rebuilding, the Martirez and Malek families will go on vacation to Disneyworld.
The design team for this episode of "Extreme Makeover: Home Edition" will feature team leader Ty Pennington and designers Paige Hemmis, Ed Sanders, Eduardo Xol and John Littlefield. The series is produced by Endemol USA, a division of Endemol Holding. It's executive-produced by Anthony Dominici. David Goldberg is the president of Endemol USA. "Extreme Makeover: Home Edition" is broadcast with Spanish subtitles via secondary closed captioning. This program carries a TV-PG parental guideline.