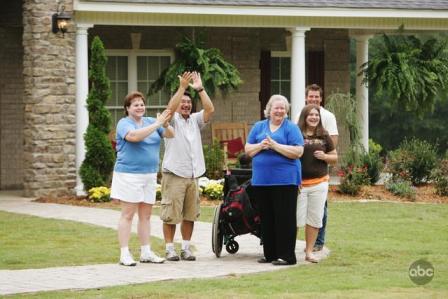 "McCully Family" - - Ty and the designers of "Extreme Makeover: Home Edition" travel to Bigelow, AR to make the McCullys' mold infested and dilapidated home a safer and larger place to live in in only seven days, SUNDAY, OCTOBER 26 (8:00-9:00 p.m., ET) on the ABC Television Network.
At only 10 years old, Job McCully is an inspiration to his small town, surviving leukemia and a bone marrow and double lung transplant. After years spent in and out of the hospital, he's still far from healthy. In March of 2008, Job was finally able to leave the hospital, but because of his health, the family wasn't able to return to their sinking, moldy and dilapidated home. This very old house has leaks in the roof, in the air conditioner and the floor, and the mildew-infested walls are especially threatening to Job; in 2006 fungus was discovered on his lungs, which it's suspected came from their home. The family packed up and moved out.
Although Job has endured painful side effects from all the treatments he has received, he still manages to smile and treat others with generosity. With all that this family has been through, they never hesitate to help those in need. His sister, Nicole, at only 12 years old, learned to administer shots to her brother for the diabetes he developed from his treatments. Rob is a deacon at the church, and Tina has spearheaded two successful support groups in her church for struggling young married couples and addicts. The family is currently living in a donated rental, but still struggling to pay their mortgage. It's now up to Ty and his designers to bring the McCully family back to a place that Job and the family can really call home.
While Ty and the designers, local builder Woodhaven Homes and hundreds of volunteers and workers are rebuilding their home, the McCully family will go on vacation to Fess Parker's Doubletree in Santa Barbara.
The design team for this episode of "Extreme Makeover: Home Edition" will feature team leader Ty Pennington and designers Paul DiMeo, Paige Hemmis, Eduardo Xol and Tracy Hutson. The series is produced by Endemol USA, a division of Endemol Holding. It's executive-produced by Anthony Dominici. David Goldberg is the president of Endemol USA.
"Extreme Makeover: Home Edition" is broadcast with Spanish subtitles via secondary closed captioning. This program carries a TV-PG parental guideline.
This episode will be available on ABC.com the day after airing on the network for users to watch online.
(Photo courtesy of ABC)