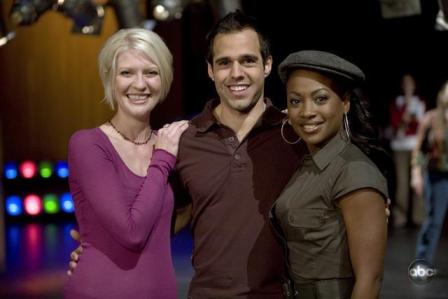 "West Coast Auditions" - Thousands of hopefuls vie to be part of this summer's reality series, "High School Musical: Get in the Picture," when it premieres SUNDAY, JULY 20 (8:00-9:00 p.m., ET) on the ABC Television Network. Nick Lachey hosts when talent scouts Regina Williams, Jennifer Malenke and Chris Prinzo hold surprise regional auditions across the western half of the United States, as well as a massive open casting call in Long Beach, California. Top performers will go on to the semifinals which air Monday, July 21. The series runs Sundays and Mondays (8:00-9:00 p.m., ET) for three weeks, then continues Mondays (at 8:00 p.m., ET) through mid-September.

The first four episodes of the series will focus on the nationwide auditions. Twelve finalists will ultimately participate in a summer music program to hone their skills, and one talented newcomer will become a part of "High School Musical" history. The winner will literally "get in the picture" when that person stars in a music video shown in the end credits of the feature film, Disney's "High School Musical 3: Senior Year," opening this fall. In addition, the winner will also receive an exclusive talent hold agreement with ABC and a recording contract for two singles with Walt Disney Records, one of which will be a version of the song from the music video.
    
Executive producers of "High School Musical: Get in the Picture" are Jay Blumenfield and Tony Marsh (both of "Here Come the Newlyweds"). The production company is The Jay and Tony Show.
    
Kmart is the proud on-air and online retail partner of "High School Musical: Get in the Picture." Verizon Wireless is the show's mobile carrier on-air and online.

Disney's "High School Musical" has been seen by over 250 million viewers and the sequel, "High School Musical 2," has been seen by more than 195 million viewers in 24 languages globally. The movies spawned stage productions at schools and in professional theatres around the world, multi-platinum CDs, DVDs and books, a successful consumer products franchise at mass retailers, themed shows at Disney Parks in Anaheim, Orlando and Paris, a sold-out 42 date arena concert tour in North America and Latin America and a popular touring ice show around the world.