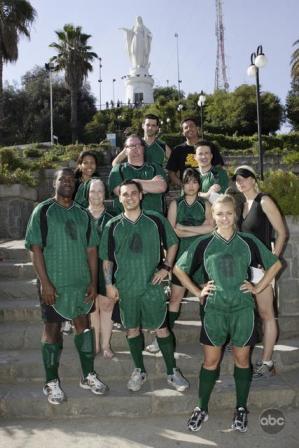 Despite being voted by the other players as "most likely to be The Mole," Marcie Ciscel of Corona, CA, was the first one "Executed" at the end of last night's season premiere of "The Mole." The next episode airs MONDAY, JUNE 9 (10:00-11:00 p.m., ET) on the ABC Television Network. Jon Kelley ("Extra," "The National Sports Report," "Baseball Today") is host.

In the next installment, "Episode 502," participants face a formidable team while playing Chile's most popular sport, soccer, and Bobby travels in a wheelbarrow to search for the town's missing pigs.

The 11 players remaining on "The Mole" are:

Alex (Haverford, PA)
Ali (St. Louis, MO)
Bobby (Philadelphia, PA)
Clay (Philadelphia, PA)
Craig (San Diego, CA)
Kristen (Santa Monica, CA)
Liz (Whitefish, MT)
Mark (Mukwonago, WI)
Nicole (Chicago, IL)
Paul (Yonkers, NY)
Victoria (Bishop, TX)

MARCIE CISCEL
Age: 31
Occupation: Stay-at-home Mom
Education: High School Graduate, West High, Torrance, CA

Marcie got pregnant in high school and married her high school sweetheart. She is a devoted wife - married to a police officer -- and mother to three sons. By devoting her entire life to raising her family, Marcie has missed out on the opportunity to do something just for herself. But she believes that being a stay-at-home mom is the most important job anyone can have. Stay-at-home moms aren't people who can't do anything else, they just choose to raise their families rather than pursue a career. Spanish
is Marcie's first language, and she speaks it fluently.

"The Mole," based on the hit Belgian format, is produced by Stone & Company Entertainment and follows a group of players as they try to figure out who among them is The Mole, a saboteur trying to keep them from winning money. Players must decide who they think The Mole is and then learn as much about him or her as they can because, at the end of each one-hour episode, the player who knows the least about The Mole is immediately "Executed" from the game. In the final dramatic episode, The Mole is revealed and one of two final players can win up to $500,000.