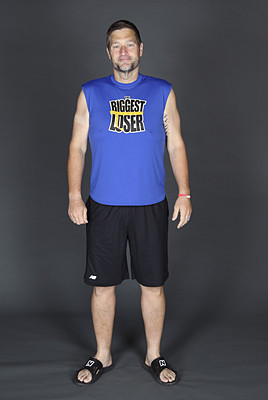 Last week we had the chance to talk with Roger of
The Biggest Loser Couples
. Roger is a fun-loving Southern guy who is very loud and very outgoing. When he walks into the room you can see his personality a mile away. He's very proud of being an ex-football player for Alabama.
Q. Mark, RealityWanted.com: Roger, it's great to finally have the chance to speak with you and you haven't been eliminated which is new for us, we usually speak with the contestants after they are eliminated. My first question is, have you watched prior seasons of The Biggest Loser?
A. Roger, The Biggest Loser Couples: 100%, I have watched every season. It's a great show and fun to watch.
Q. Mark, RealityWanted.com: We have a social networking website that specializes in Reality TV Casting. In fact we just had a casting call posted for The Biggest Loser Season 6. Tell us how you landed a spot on season 5 since many aspiring Biggest Loser applicants want to know?
A. Roger, The Biggest Loser Couples: I watch reality shows like The Biggest Loser, The Apprentice and Survivor. I knew I wasn't cut out for Survivor but I did apply to The Apprentice but didn't land a spot. I applied to The Biggest Loser Season Three and made it about ½ way through the process and then it stopped. I then went through the same process for season four and almost made it but got cut short of the final interview. I received a call in August from 3Ball Productions and they asked me if I knew someone for a couples/team Biggest Loser, so I scanned thorough my head of all the fat friends I knew and I called Trent and we made it.
Q. Mark, RealityWanted.com: That's good to know, we have members on our site who have simply applied to a show and are let down they did not get a call back. I can't imagine going through the interview process three times and getting so close but no cigar. However, it looks like it worked out just fine for you. So the key to getting on a reality show is persistence and patience.
Let's talk about the show. You guys had a lot of challenges, what was the hardest for you?
A. Roger, The Biggest Loser Couples: The most difficult challenge was the swimming challenge in Australia since I felt like I was going to drown. As far as all the challenges I didn't care so much for them since I was there to lose weight, learn how to eat and workout.
Q. Mark, RealityWanted.com: Talk to me about what lead to your weight gain.
A. Roger, The Biggest Loser Couples: When I played ball in college I burned 7 – 8 thousand calories a day and ate like a horse. I also had a very hard time keeping weight on when I played sports so I would eat a ton, sometimes I would have a large pizza at 10pm. Then I quit playing ball but kept eating the same way therefore I took in the same amount of calories but didn't burn them off.
Q. Mark, RealityWanted.com: Makes sense, I think that happens to a good deal of football players and athletes. Since we are running short of time tell those who are battling weight issues how they can lose weight or get started in the right direction?
A. Roger, The Biggest Loser Couples: I would say to just start moving, take a walk around the block or a quick bike ride. The biggest mistake you can make is to go into the gym for hours and kill yourself. Most people make this mistake and don't return to the gym ever again. Take baby steps and slowly over time work out a little longer and soon it will become habitual.
Don't miss the Biggest Loser live finale tomorrow on NBC.
Find additional
Biggest Loser links
on
sirlinksalot.net