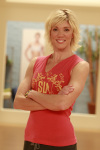 Series Moves To Its Regular 10 p.m. Timeslot on Tuesday, April 22
BURBANK, Calif. – April 10, 2008 -- Bravo's hit docu-series "Work Out" is back for a third season featuring elite trainer Jackie Warner, owner of Sky Sport & Spa in Beverly Hills. The conflict and drama at her gym escalates with the introduction of four dynamic new trainers to the family – Jesse Jordan, Agostina Laneri, Greg Plitt and Renessa Williams. The hot new trainers bring out the insecurities in Warner's longtime trainers – Jesse Brune, Gregg Butler, Rebecca Cardon, Erika Jacobson and Brian Peeler – who strive to stay in Warner's good graces and keep their valuable clients happy. Catch all the drama when the third season of "Work Out" premieres Tuesday, April 15 at 11:00 p.m. ET/PT and moves to its regular 10:00 p.m. ET/PT timeslot on Tuesday, April 22.
After an emotional year, Jackie has vowed to approach her business and personal endeavors with a newfound maturity. She has a new live-in love, Brianna, who she says has brought some stability to her life, but at work is still butting heads with the opinionated Peeler. Jackie must also deal with Rebecca's insecurities now that their fling has ended, and her antagonistic new trainer, Greg. But it's not much of a battle when you're fighting with the woman who cuts your checks. "Here are the options, don't work for me or do what I say," says Jackie, after Greg displays his disapproval to wear Jackie's clothing line on the job.
Bravo is a program service of NBC Universal Cable Entertainment, a division of NBC Universal one of the world's leading media and entertainment companies in the development, production, and marketing of entertainment, news, and information to a global audience. Bravo has been an NBC cable network since December 2002 and was the first television service dedicated to film and the performing arts when it launched in December 1980. For more information visit www.bravotv.com