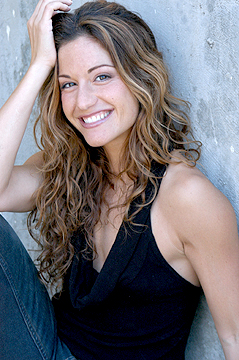 I had the chance to chat with Rebecca Cardon of Bravo's hit series Workout which will return for a third season April 15th.  Here is what she had to say about the new season, her relationship with Jackie and what got her started in fitness.
Mark: Rebecca, it's great to chat with you today. I saw you last week at the RealityCares event but lost you in the sea of attendees.
Rebecca: It was a great party, hopefully we can chat at the next event.
Mark: I have been working out ever since high school and trained people for a very short time while in college. What got you started in personal training?
Rebecca: I have always had an interest in fitness, my father used to take me to the gym when I was a kid and tell me if I did 5 more pull ups I would get a candy bar. I never thought about making a living at personal training but my partner from the Amazing Race really got me into it.
Mark: Did you do personal training prior to Workout?
Rebecca: Yes, I was training some client before I landed a spot at Sky Sport Spa.
Mark: How did you end up on the show?
Rebecca: Sky Sport Spa was looking for some new trainers and scouted me out.
Mark: That great, you landed spots on two reality shows. Typically one reality show is about all you get. What can you tell us about Workout Season 3?
Rebecca: This is going to be a much different season. We are all starting to get on each others nerves since we spend so much time with one another. People are not as polite as they have been on prior seasons and the gloves are coming off. You will also see the physical transformations with our clients which you didn't get to see much of in prior seasons.
Mark: That's cool, I know the shows focus is more about the trainers but it would be cool to see some client transformations. Do you ever watch The Biggest Loser?
Rebecca: I haven't seen it and I am told I should since I trained Caroline Ray who used to be the host.
Mark: So let's talk about you and Jackie Warner. I thought I saw you come to the party with a new guy and from the commercials for season three there is a new love interest in Jackie's life, are you guys done?
Rebecca: Its funny we never really had a start or and end. Jackie and I started as friends and it turned into something else and it turns out we are better as friends. Jackie has found someone who is 100% gay which may be better since I just float around with guys or girls.
Mark: So are dating the guy I spotted you with at the party?
Rebecca: Yes, we have been dating for about three months now.
Mark: I hate to flip this into something that may be less fun but talk with me about Doug. Doug passed away last season and seemed like such a great guy and great spirited on the show.
Rebecca: Doug's loss was heart wrenching. I know people say such great things about someone after they pass but Doug was a pure soul who was born without the gene that makes someone mean or callous. I don't think any of us knew the magnitude of his sickness, many of us didn't know just how sick he was.
Mark: He seemed like such a great guy. I know Doug and Brian Peeler were good friends and I have a call set with Brian here in about 15 minutes and want to chat with him about Doug as well. So as we wrap up, what else would you like to tell us about season three? I will follow up with you guys in a few weeks after viewers have a chance to see a few episodes.
Rebecca: I suppose viewers will get a chance to see me act like an obnoxious child when I don't get attention from Jackie, but it is what it is, it's going to be a great season so stay tuned.
Mark: Very cool, I have to go watch the screeners of episode one and two and I am sure I'll be pumped for episode three. Have a great week and I look forward to talking with you in a few weeks.
Check out her website at
http://www.rebeccacardon.net/
Find additional
Workout links
on
sirlinksalot.net