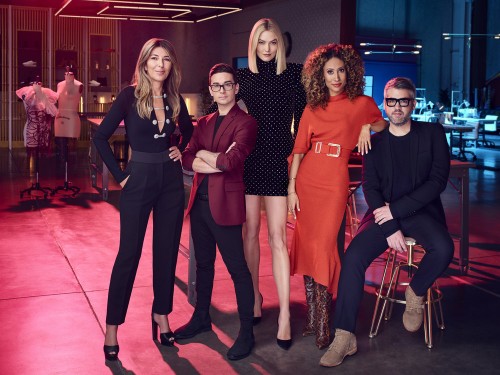 Bravo Media announced its Emmy-winning series "Project Runway" returns for an all-new season premiering December 5th. Karlie Kloss returns as host with mentor Christitan Siriano and judges Nina Garcia, Brandon Maxwell, and Elaine Welteroth.
In the upcoming season, 16 new hopeful fashion designers will compete in the high stakes competition. "Each 90-minute episode will feature the return of some fan-favorite elements, including the 'Siriano Save,' in which Christian has the opportunity to bring one eliminated designer back into the competition, and the pièce de résistance, a chance to present a final collection at New York Fashion Week," says Bravo's press release. "Gotham remains a main character for this fashion adventure for challenge reveals and runway shows with iconic locations such as the famous TWA Hotel at JFK, The Vessel at Hudson Yards, and Bergdorf Goodman."
Shining a light on the groundbreaking evolution of fashion, this season will feature "a variety of sexual preferences, racial backgrounds and ages including a nonbinary model and a trans model, a "Dreamer," and the oldest designer ever to compete on 'Project Runway'," says the press release.
Guest judges in the upcoming season included appearances from Cyndi Lauper, Laverne Cox, Leslie Jones, Lindsey Vonn, Rachel Brosnahan, Thom Browne, Ashley Longshore, Marni Senofonte and more.
The all-new season of "Project Runway" premieres Thursday, December 5 at 9:30pm ET on Bravo.
Photo by: Joe Pugliese/Bravo