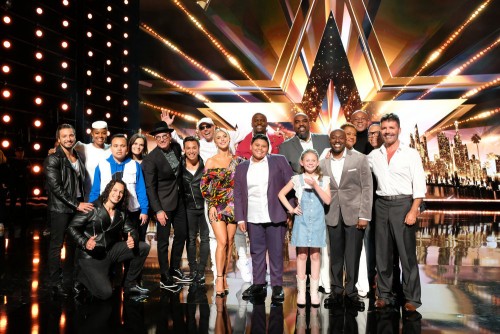 This week, the first 12 acts performed live for "America's Got Talent" judges Simon Cowell, Gabrielle Union, Julianne Hough and Howie Mandel at Dolby Theatre.
The first 12 acts of 36 total that performed this week featured Golden Buzzers Kodi Lee, Luke Islam and Sophie Pecora, as well as Alex Dowis, Bir Khalsa, Carmen Carter, Emerald Belles, GFORCE, Greg Morton, Messoudi Brothers, Voices of Service, and "Wild Card" Ansley Burns.
In the first results show last night, the first seven semi-finalists were revealed:
Light Artist, Alexis Dowis
12-year-old Singer Luke Islam
Singer Kodi Lee
Singing Group, Voices of Service
Hand Balancing act, Messoudi Brothers
Voice Impressionist, Greg Morton
13-year-old singer, Ansley Burns
These seven contestants move to semi-finals, which begin September 3rd and will compete for the $1 million grand prize. Next week, the next 12 acts will compete for a coveted spot in semi-finals when "America's Got Talent" airs Tuesday at 8pm ET on NBC.
Photo by: Justin Lubin/NBC