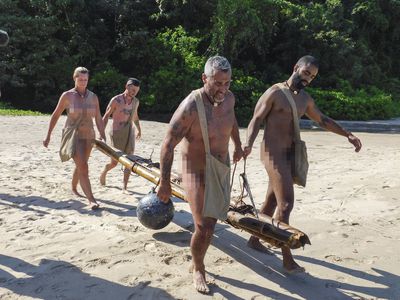 Discovery Channel announced an all-new season of "Naked and Afraid XL" will premiere June 2nd with 12 survivalists attempting to survive 40 days and 2 All-Star survivalists who will be attempting an unprecedented 60 days of survival.
This season, the 14 survivalists will tackle a treacherous challenge on both land and sea while working together to gather food and water, build fire and a shelter. "Arriving by boat, four teams of three begin their adventures dropped in the brutal South China Sea, forcing them to swim through shark-infested waters to sun-scorched deserted islands of jagged rock beaches and impenetrable cliffs," says the Discovery press release.
The 14 survivalists in the upcoming "Naked and Afraid XL" season include:
Garbrielle Balassone, Maryland                
Duke Brady, California                                  
Dustin "Duck" Campbell, Louisiana          
Max Djenohan, Washington                       
Charlie Frattini, Maine                                  
Angela Hammer, Minnesota                       
James Lewis, Florida           
Christina McQueen, Kentucky
Rylie Parlett, Maryland   
Russell Sage, Texas  
Nicole Terry, Massachusetts  
Manu Toigo, Califoronia    
Jeff Zausch, Idaho 
Laura Zerra, Alaska        
The All-Star survivalists Laura Zerra and Jeff Zausch already completed the Naked and Afriad 21-day and 40-day XL challenges. This season, they'll attempt a whopping 60 days of survival, first taking on a 21-day challenge and if they survive, immediately join the additional 40 days of XL.
The new season of "Naked and Afraid XL" premieres Sunday, June 2 at 8 pm ET on Discovery Channel.
Photo by: Discovery Channel