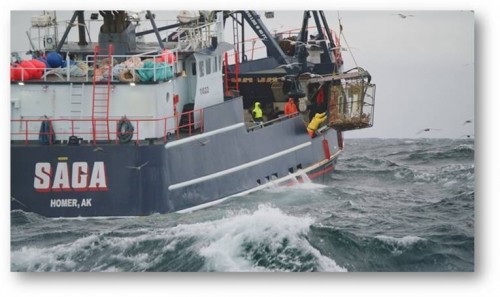 Discovery Channel announce the landmark 15th season of the hit crab fishing series, "Deadliest Catch" will premiere on April 9th. This season a new boat blows into Dutch Harbor, Alaska, and the captain is rumored to know where over a quarter billion dollars-worth of king crabs are located.
The "new guy" is Captain Steve "Harley" Davidson  on the 148-foot-long Southern Wind and he believes there's a cluster of a quarter billion-dollars worth of crab.
Returning this season is Captain Sig on the legendary Northwestern, with his daughter Mandy Hansen as his relief skipper. Captain Jake Anderson on the Saga, Captain Keith Colburn on The Wizard, Captain Wild Bill on the F/V Summer Bay, Captain Sean Dwyer on the Brenna A, and Captains Josh Harris and Casey McManus on the Cornelia Marie, round out the fleet.
"It's an all-out battle this season as the captains attempt to catch their plunder. But as tensions rise, the temperatures continue to drop," says Discovery's press release, "Storm after storm causes season-ending injuries and more damage to the boats than the captains have seen in years."
No season is ever the same on "Deadliest Catch." Don't miss any of it when season 15 premieres on Tuesday, April 9 at 9pm ET on Discovery Channel.
Photo courtesy: Discovery Channel