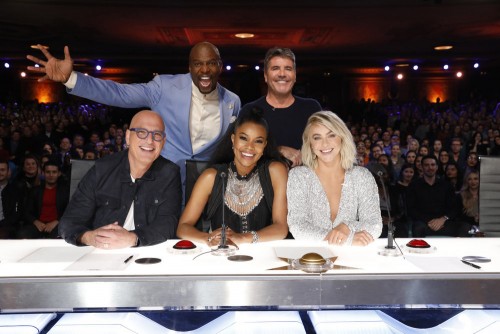 NBC announced its hit summer series, "America's Got Talent" will premiere season 14 May 28. Returning judges Simon Cowell and Howie Mandel are joined by two new judges, Gabrielle Union and Julianne Hough, on the judging panel.
"America's Got Talent: The Champions" host, Terry Crews, will host the new season of "America's Got Talent."
Union is an award-winning actress, author and producer who is best know for her role in films "Bring It On" and "Bad Boys II." Julianne Hough is an actress, dancer, singer and Emmy Award-winning choreographer who is best known as a professional dancer and judge on "Dancing with the Stars."
The hit talent competition series has remained summer's No. 1 alternative show for the last 13 seasons. Season 14 of "America's Got Talent" premieres Tuesday, May 28 at 8pm ET on NBC.
Photo by: Trae Patton/NBC