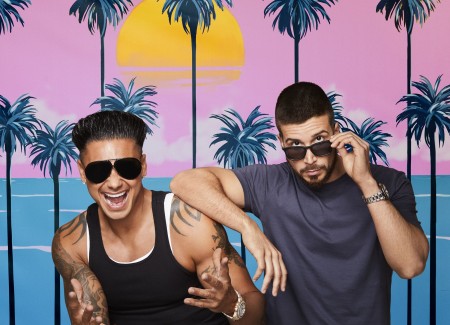 MTV announced its new dating series, "Double Shot at Love with DJ Pauly D & Vinny" starring the popular bromance  Paul "DJ Pauly D" Delvecchio and Vinny Guadagnino from "Jersey Shore Family Vacation" will premiere April 11th. 
The two eligible bachelors will be looking for their perfect match in the new dating competition series with 20 contestants vying to win their hearts. "Each episode, the contestants will face off against one another hoping to avoid the elimination ceremony while the boys must also compete for the affection of the contestants as well - making this reality-dating show unlike any other," says MTV's press release.
Meet the 20 contestants hoping find love with Pauly D and Vinny: 
Alli Adams, 28, Green Bay, WI
Alysse Joyner, 24, Brooklyn, NY
Ashley Lands, 24, New York, NY
Brittani "B-lashes" Schwartz, 27, Lake Grove, NY
Brittnay Dawson, 33, Norfolk, NE
Cate Lapera, 27, Staten Island, NY
Christina Lawrence, 29, Los Angeles, CA
Derynn Paige, 25, Franklin Lakes, NJ
Deseree Flores, 37, Scottsdale, AZ
Elle Wilson, 25, Waverly, PA
Holly Gurbisz, 26, Matawan, NJ -
Maria Elizondo, 22, West New York, NJ
Marissa Lucchese, 22, Massapequa Park, NY
Michelle "Mish" Gao, 22, Tustin, CA
Nadya Erazo, 29, Pomona, CA
Nikki Hall, 26, Los Angeles, CA
Shira Tran, 27, New Orleans, LA
Susan "Suzi" Baidya, 30, Irvine, CA
Victoria Fryer, 25, Chicago, IL
Zuljeily Andino, 30, Miami, FL
DJ Pauly D is currently DJing in a Las Vegas residency and Vinny has become the Keto-guido at his Staten Island homestead. Both are ready for finding a relationship.
"Double Shot at Love with DJ Pauly D & Vinny" will premiere Thursday, April 11 with back-to-back episodes on MTV. 
Photo credit: MTV