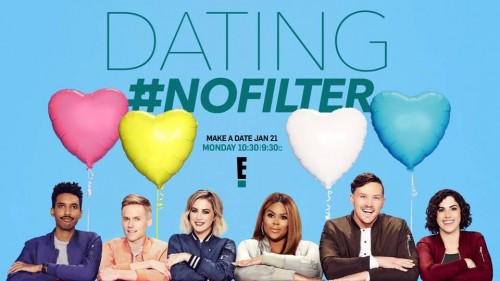 E! announced a new original unscripted series, "Dating #NoFilter" will premiere January 21st. The 20-episode season of the blind dating series is a hilariously honest take on the modern dating scene social media savvy swipers.
In each 30-minute episode, "three pairs of outspoken comedians will serve up play-by-plays as they follow real singles on the most outrageous, intimate, and surprising first dates.  Throughout the blind dates, the comedians will offer their candid and unique POVs as they weigh in on every accidental love story pulling at viewers' heart strings and the "OMG-no!" cringe-worthy moments, with real, unfiltered and clever commentary," says the E! press release.
The comedian panel on "Dating #NoFilter" includes Ben Bizuneh, Cara Connors, Rocky Dale Davis, Kelsey Darragh, Ben Evans, Zach Now Towers and Nina Parker.
Don't miss the hilarious, side-splitting blind date series premiere of "Dating #NoFilter" onMonday, January 21 at 10:30pm ET on E! with episodes airing Monday-Thursday.
Photo credit: E! Entertainment