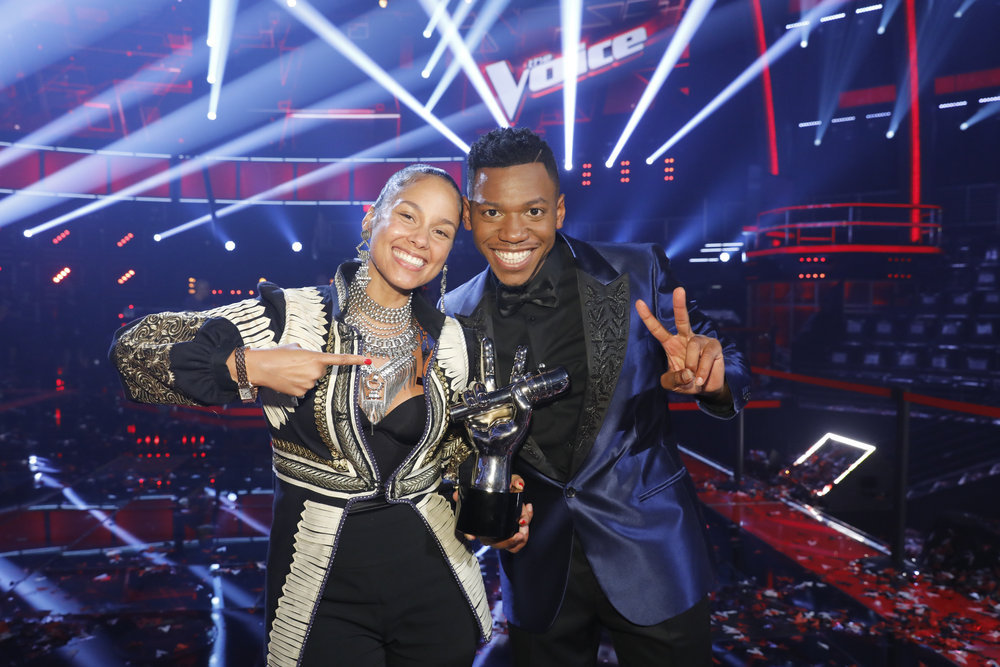 Chris Blue of Team Alicia was crowned champion of "The Voice" season 12 on Tuesday night. In an interview he shared what the process was like for him, his song choices, and what's next for him in his music. But what Chris really showed in the conference call was his character, thoughtfulness, faith, and work ethic. You'll be blown away by his words, we promise.
When you win a recording contract on "The Voice," the obvious thing to do is hit the ground running, Chris says, "Indulging in this process has enabled me to embrace hard work. And so that's kind of my world now," he adds, "We want to go ahead and get music out, start working on music, and start making history. Onto the next goal."
Chris Blue won "The Voice" on Team Alicia in her first season as a coach, and these two were a perfect coach/artist partnership, and Alicia gave him a bit of advice he'll never forget. "[Alicia said] 'You're a human being. So when you hit the stage tonight, don't try to do anything. Just be it because you're a human being, not a human doing.' And that's something that I will always remember. And I'll always keep with me. Be present. Be in the moment. Be a human being, not a human doing." This is a reminder and advice most of us could use in any aspect of life.
Chris was one of four in the finals, up against Lauren, Aliyah, and Jesse. Waiting for the winner to be revealed, Chris says, "I began to think about all the hard work we put in and all the hard work, you know, my coach Alicia and I, you know, we put in each week. And I'm a firm believer that hard work pays off. And if you're faithful over a few things, God will make you rule over many."
After Carson Daly announced his name, Chris recalls, "All I could think about what the victory that my family received. I wanted the confetti to fall on them and I wanted my coach to experience that. And I really was more happy for them than myself."
It doesn't really get any better than this. A well deserved victory for Chris Blue and his coach Alicia Keys.
Photo by: Trae Patton/NBC