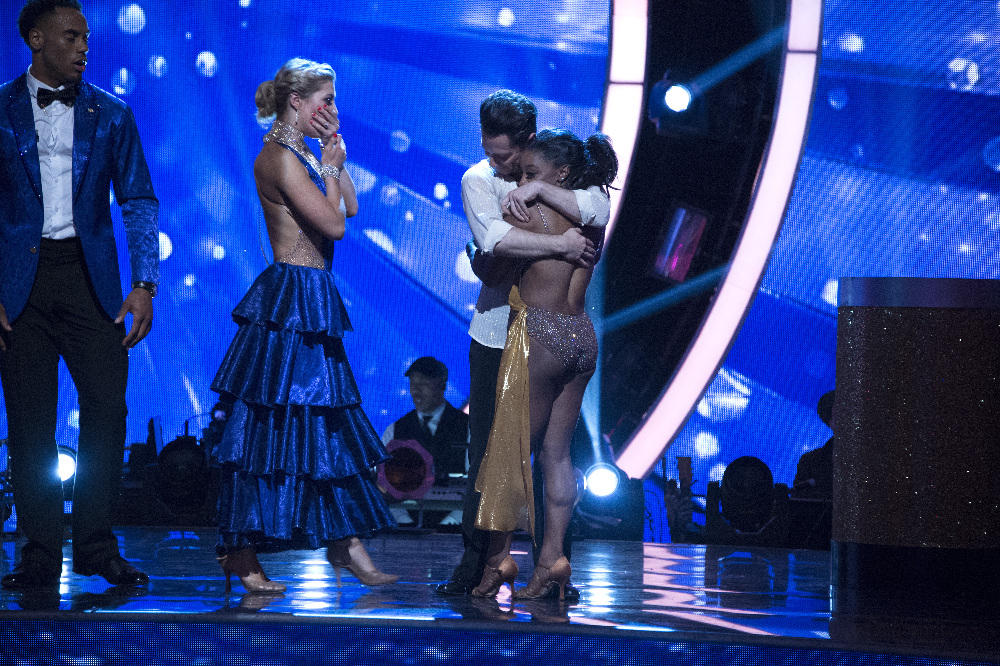 by Ashley Thompson
It's the semi-finals and the judges are getting involved with the remaining 4 couples. Each couple is given a specific and special challenge by a judge in the first round and then the couples do a dance they haven't done yet in the second round.
Judges Challenge Round:

Normani and Val - Len wants reverse turns - Viennese Waltz - 36/40
David and Lindsay - Julianne wants his tush tucked under (with lemons in his butt cheeks - Foxtrot - 34/40
::Special guest break:: Calum Scott performs "Dancing On My Own" while Whitney and Artem performa contemporary dance.
Simone and Sasha - Carrie Ann wants imperfection - Jive - 40/40 - FIRST PERFECT SCORE OF THE SEASON
Rashad and Emma - Bruno wants a cleaner, more controlled routine - Rumba - 38/40
::Special guest break #2:: Cheryle Burke gives us a sneak peak of her Love on the Floor live tour.
Round Two - What inspired the stars:
Normani and Val - When she was 5 years old her mother was diagnosed with breast cancer (and survived). Then Hurricane Katrina hit and destroyed her home, so her family moved to Houston. She credits her family for helping her audition for Fifth Harmony. - Jazz - 40/40
David and Lindsay - In Cincinnati he complained about playing time and was released 2 days later. That was a wake-up call to be a player that his kids would be proud of. - Tango - HOLY COMPLIMENTS FROM THE JUDGES! - 36/40
Simone and Sasha - She started taking gymnastics seriously at age 12 but her parents had to hold her back because she was climbing the levels so quickly. At first she cried for days for what she was sacrificing by training 24/7. - Rumba - 40/40
Rashad and Emma - In middle school he was diagnosed with a reading comprehension delay. He felt worthless and inferior to his older brothers. But he proved he could be a talented football player, which encouraged him to work on his grades. - His brothers worked at a private school and used their paychecks to pay his tuition. - Quickstep - 39/40
Only three couples are moving on to the finals which means we have to say adios to another couple. And shall we just say, WHAT. IS. HAPPENING.??!! Simone is the one to leave. I mean... WHAAAAAAAT?? The judges always pull the "you didn't open up emotionally until it was too late" crap with Olympians. Is it the truth for the fans? It doesn't look to be the truth for the judges.
If we have to move on... let's just go ahead and say, David all the way!!!
Photo credit: ABC/Eric McCandless