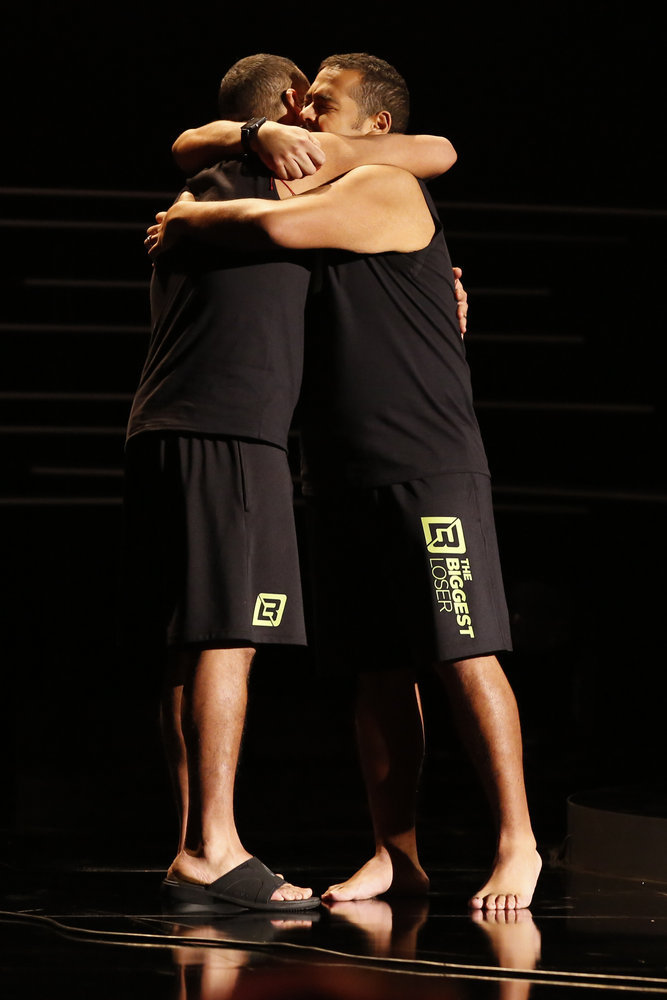 by Ashley Thompson
It's time for the finale where 3 finalists will weigh in for $250,000 and the title of The Biggest Loser. But before they get the chance to win they will be given one more temptation, never before done on Biggest Loser. Remember the last episode? They didn't let us know if Colby or Jacky was the person going to the finale. The third finalist is Colby, weighing in at the Ranch at 229 from 238, down 9 pounds.

Don't forget the at home prize for the person who lost the most after leaving the Ranch. $100,000 for whoever could stay the most focused at home. And wow do they look absolutely amazing.

Team Dolvett
Richard: 314 to 269, down 45 pounds
Erin: 238 to 151, down 87 pounds
Toy: 316 to 232, down 84 pounds
Britney: 253 to 220, down 33 pounds
Whitney: 253 to 197, down 56 pounds
Felicia: 234 to 178, down 56 pounds
Jacky: 304 to 187, down 117 pounds

Team Jen
Lauren: 234 to 167, down 67 pounds
Vicki: 237 to 176, down 61 pounds
Rob: 326 to 210, down 116 pounds
Sarah: 267 to 148, down 119 pounds
Hope: 232 to 192, down 40 pounds
Louis: 308 to 169, down 139 pounds

The $100,000 at-home prize is Louis losing almost half of his body weight during his 3 months with the Biggest Loser.

Now back to what we're all here for. Before the three men are weighted in they are presented with $50,000 and a 3 pound disadvantage. What if you take it AND you win, regardless of the extra 3 pounds?? How awesome would that be? Colby waited until the very last second to push the button but he takes the money and the pounds.

Roberto: 348 to 188, down 160 pounds
Stephen: 309 to 176, down 133 pounds
Colby: 339 to 217, down 122 pounds

SPOILER ALERT:
ROBERTO IS THE BIGGEST LOSER! THE TWINS TOOK BOTH PRIZES!
(Photo by: Trae Patton/NBC)