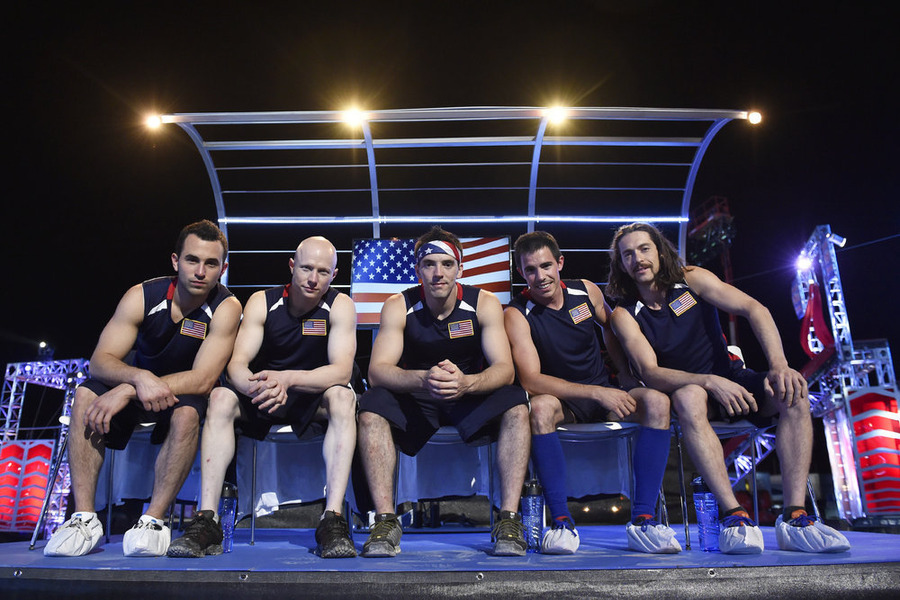 By Ashley Thompson
They're back in Las Vegas and there's three heats on each stage... each heat will have an athlete from USA, Europe and Japan. Stage 1 is worth 1 point, Stage 2 is worth 2 points, Stage 3 is worth 3 points. In the event of a tie, like last year, a competitor from each team will race side by side up Stage 4 to determine the champion.

Stage 1 has 8 obstacles which combine speed and strength. Pistons, propeller bar, silk slider biplane, jumping spider trampoline, sonic curve, 14 ft warped wall with 1/2 the running space, discs, and flying triple swing to climb the final net. Whoever gets through the fastest wins a point for their team. First up is American Isaac Caldiero who quit his job as a busboy after winning the $1,000,000 prize for Mt. Midoriamo last year. Unfortunately he couldn't make it past the 4 obstacle. Ryo Matachi also fell at the Jumping Spider. Rookie Alexander Mars could not make it past that particular obstacle faster than American Isaac so he wins the point for Stage 1. Tim Champion started for the Europeans. He made it in the UK to Stage 2 previously and made it past the Jumping Spider here, but ultimately fell at the cargo net. Kenji Takahashi "Kong" had a great reputation but couldn't make it as far as the Europeans. Kevin Bull "Bull" (known for his dismount in season 6) tried to do it for the Americans, but the Jumping Spider got him, too. Point to the Europeans. The Europeans then selected their team captain for the third portion of Stage 1, Tim Shieff "Livewire". He ended up being the first to complete Stage 1, while Japan lost another member, Yusuke Morimoto, to the Jumping Spider. The first American to complete Stage 1 was Drew Drechsel and beat out the Europeans for the point by only 7 seconds.

Stefano Ghisolfi made it farther in Stage 2 this year than last, but could not complete the course. Kevin Bull and Masashi Hioki fared not better so the two points went to the Europeans. Tim then fell on the bridge and Japan had their chance. Tomohiro Kawaguchi made it further but did not complete the course. But they were no match for Drew Drechsel who did manage to complete it and put USA back in the lead. Team member Geoff was ill so his alternate had to be put in the competition. Joe Morasky then went on to complete Stage 2, so it was a good decision after all. However Europe's Sean McColl did it better and faster.

By the first heat in Stage 3, the USA had taken the lead from the Europeans and Japan was out of the competition due to an inability to make up the amount of points to catch up to the other two teams. Joe Moravsky fell on the Ultimate Cliffhanger despite his teammates advice. Putting Europe back in the lead was Stefano Ghisolfi by getting three points for his team.

It ultimately came down to Sean McColl and Isaac Caldiero. Sean completed Stage 3 but Isaac needed to beat his time. Their previous rivalry gave Isaac some unstoppable energy and he zipped through like he knew what he was doing. Team USA took the championship from the Europeans once again!
Photo credit: NBC