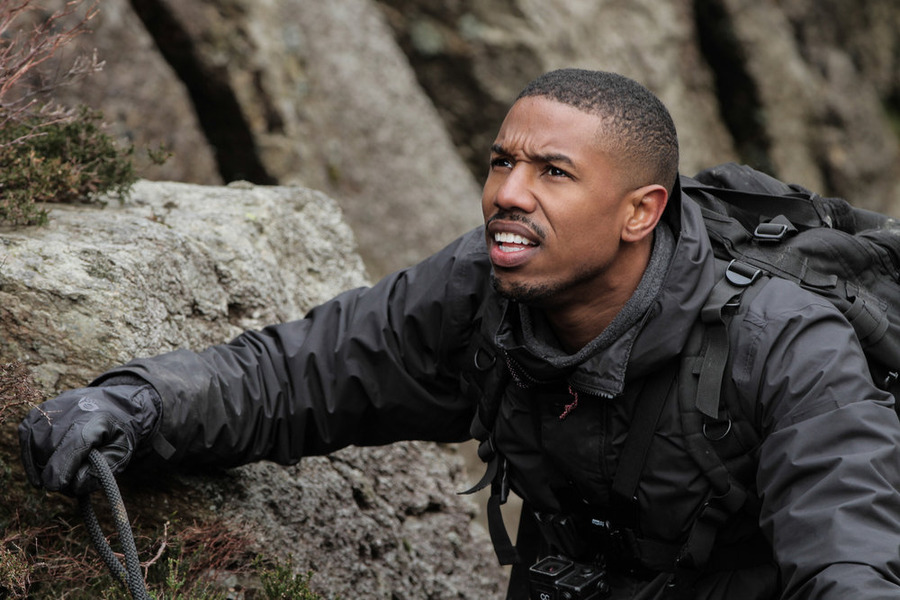 By Ashley Thompson
Michael B. Jordan may do action packed movies, but he's got nothing on a Bear Grylls adventure. He probably knows that the moment Bear drops them into the ocean in Wales near the Welsh Mountains (what Bear considers the most intense survival training). If a man jumping out of helicopter asks if you can swim, you better have a definitive answer quick. After rappelling 60 ft off the side of a helicopter into a huge swell, Bear and Michael B. swim towards the hard rocks and get pounded by wave after wave. They will first climb a massive sea cliff towards a slate mine known for it's maze-like tunnels. On day two they ascend thousands of feet up a mountain to extraction.

Interview time. A receptionist at a doctors office told Michael's mother he should get into modeling and it worked. Now he's a Hollywood Star.

Through the mountains there's 300 miles worth of mines and tunnels. Instead of climbing over the mountain they could go through mountain to their destination. Brilliant. Except if your road is dark and you have to use a flare to see... which gives off smoke, so you can't see. Down the hole you go! And what do you do when the ground drops off and you can't walk any longer? Hold on to the wall, of course. That simple... when you're Bear. And what do you do when your exit is locked? Blow it up, of course. Because that's smart in a mine.

Where there's mountains, there's sheep. And where there's sheep there's slate sheep homes perfect for random adventurers to huddle in. Apparently in Wales you don't eat the sheep. So instead of a usual kill, Michael and Bear are eating worms for grub tonight. Not just any worms, worms cleaned and cooked in Vitamin Water. What to do with the sheep, then? Capture it, keep it alive, and use it as a warm body to sleep with because of the cold. What a strange sheepnapping.

Therapy time. Michael's dad was in the military and Michael has huge respect for him and the rest of the men and women who serve. But he's an "artsy guy" and didn't feel that following in his dad's footsteps was in the cards.

Time to scale up, up, up to extraction. "You only get it wrong once." No kidding, Bear. But once at the top you get a priceless view. Bears rules for success: "Stick to three F's: Family, Faith and Follow your dreams. But be wary of the three G's: Gold, Glory and Girls."
Photo credit: NBC