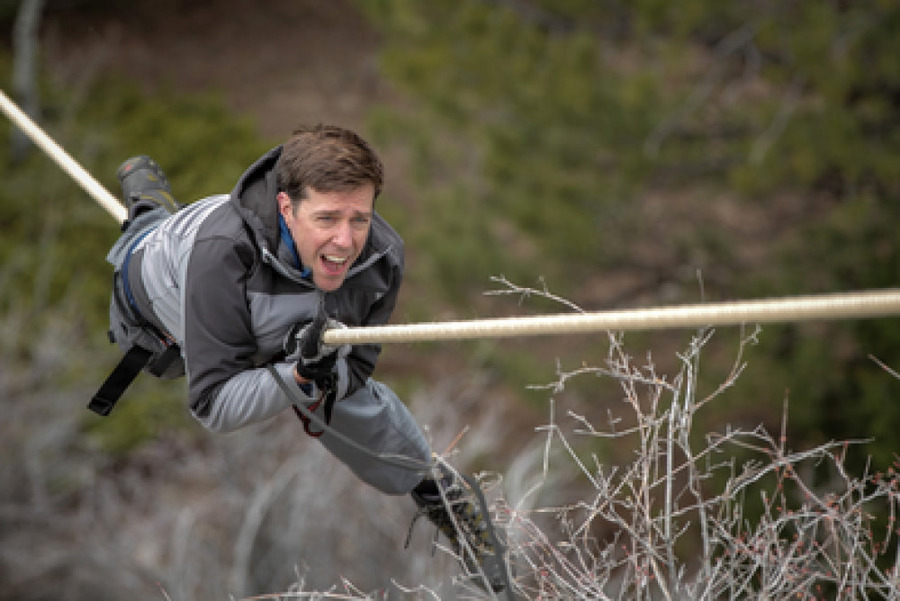 By Ashley Thompson
Ed Helms was brave enough to lose a tooth for a movie but is he brave enough to hang with Bear? The Colorado mountains don't sound too bad, but Bear has some surprises during the climb up the steep cliffs. But first, a helicopter ride... via hanging from said helicopter. Still afraid of heights, Ed?
First they head down steep terrain from 9,000ft up to the ridge line then rappel down to camp. When they realize they can't find a better way down Bear decides they're going to take the "faster" way... which means rappelling down. The look on Ed's face says nothing short of, "No thank you, nutso." But halfway down he exclaims that he's in control and becomes emotional over his feat once he reaches the bottom.
Therapy time. Ed was shy when he was younger and he made his way away from cynical humor and opened himself up.
Once to the forest it's shelter time. Since the mountains have such rich Native American history Bear decides a wigwam is the best option. Ed agrees mostly because he has no skill pertinent to this particular situation. Putting Ed on fire, Bear decides he will be the hunter. Except he can't quite catch the squirrel without queasy Ed's help. In all actuality the squirrel tastes pretty good, apparently.
Therapy session number two time. During adolescence he was trying to find himself. When he was 14 he had open heart surgery for a heart murmur he had at birth. If he hadn't had the surgery he might not have lived past age 25. Oh, and Ed can play the harmonica, too. Who knew? Bear also discloses that he had a difficult time during adolescence, too... enduring bullying.
Day 2 arrives and it's time to head home. As they shimmy in between granite boulders, they both get knicks on their fingers. Bear decides that urine is a great sterilizer but Ed isn't having it. He'd rather just get down the mountain. Unfortunately he has to do it the hard way... down a troop line. First they zip line their backpacks, then it's their turn to harness up and balance on the line. All I can say is, nope. Nuh uh. No, sir. "It's like boy scouts for adult idiots." ~ Ed.
Photo credit: NBC