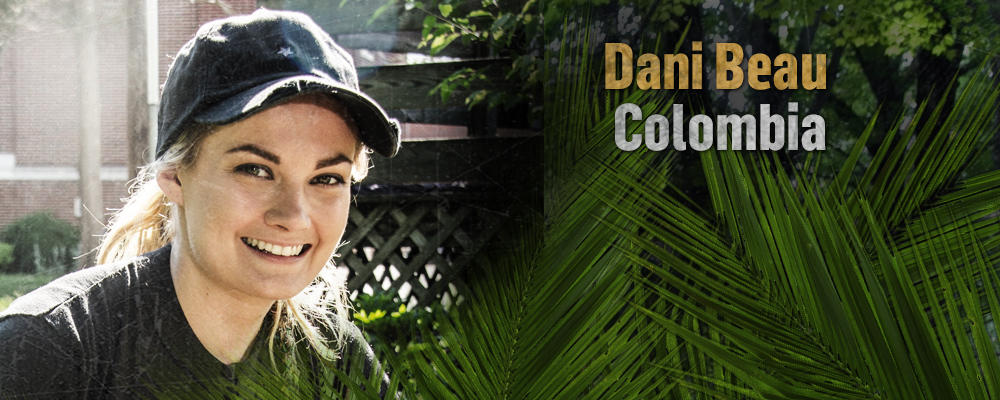 By Ashley Thompson
Naked and Afraid's Dani Beau was one of the most patient survivalists we've seen on Naked and Afraid. Reality Wanted got a chance to catch up with her since her journey and learned some interesting things about the wilderness EMT.

RW: How were you cast?
Dani: I was an EMT and then I went a wilderness medicine school to upgrade to a wilderness EMT. It was there that they were scouting students.

RW: So you were recruited?
Dani: Yeah! And it's funny because I was also recruited through a wilderness skills group that I'm in. It's almost a sign I was meant to do this. Of course I jumped at the chance.

RW: How long before your challenge were you told where you were going?
Dani: I got about two weeks notice that I was heading to Colombia but I did not know where in Colombia. They kept all of that a secret until I got my plane ticket.

RW: How did you prepare in such short time?
Dani: Well, I prepared mentally most of all. I was confident in my skills and my knowledge. Going to a country in South America I did not know what to expect. So I just focused on gaining body fat, cutting out sugars, cutting out caffeine. Just cutting out anything that could affect my health during the challenge. I really focused on my mental strength and how to keep a positive attitude while I was out there.

RW: Do you think that worked?
Dani: I definitely think that worked. I wouldn't have done it any other way. I'm really happy with the way that I prepared.

RW: We didn't get a clear answer on who brought the fire starter... did you bring it or was it given to you by production?
Dani: The fire starter was actually my last choice. One of my strengths is friction fire and bow-drill fire so I was really hoping to bring something unique to the challenge. My first choice was a tarp. I was dead set on bring it, I had a lot of skills and a lot of neat crafts I can do with a tarp. I was really disappointed. It made it more of a challenge to not really know what item I was getting. I wish they would have shown more of the bush crafts.

RW: The audience got a glimpse of a little snuggling. Were you guys snugglers?
Dani: We snuggled on the first night because our nerves were really high and we were hearing the howler monkeys and the cayman. It was more of a comfort thing. We didn't snuggle as we became more comfortable with our environment.

RW: What were you more afraid of before you went?
Dani: Before I went on the challenge my biggest fear was the smallest things the jungle has. The mosquitoes, the ticks, the risk of getting malaria or dengue fever. Even getting a cut on your foot and getting an infection. You don't have shoes out there and shoes and clothing are your number one shelter. Without that I was afraid of some little medical thing.

RW: Once you arrived what became your number one fear?
Dani: It was still the same. I was just very self aware the whole time. I wanted to be very careful to protect myself. I was making my own insect repellant for Charlie and I. And sun protection, too. I would always make sure to take on mud, ash, charcoal and there was a plant we had that I was able to make an insect repellant with.

RW: You mentioned on your diary cam that you were having tick nightmares, do you still have them?
Dani: ::laughing:: It was definitely not comfortable. I only had 4 total but Charlie had a total of 69 ticks throughout the whole challenge. They were the little tiny ticks known to carry disease.

RW: You talk about protecting yourself from cuts and infections, as an EMT how frustrating was it for you that your partner wouldn't listen to you when he cut himself several times?
Dani: It was definitely a little frustrating at first. He had a very different outlook on injuries. As a marine Charlie was always trained to suck it up and be a man. With me I'm used to treating something as small as a scrape especially in a foreign environment.

RW: When he told you that you weren't obeying, were you offended?
Dani: It just gave me more of a look at his personality. I wasn't insulted at that it was just me adapting to his personality at that point.

RW: What foods did you two actually eat during your 21 days?
Dani: There was actually a lot of things that I found when we were out foraging. I found the river cabbage, edible flowers, we found a mango tree which was great. It was so hot there so eating a ripe, cool piece of fruit was amazing. I also found edible roots the size of potatoes. We were both out almost every day constantly looking. We had termites which are great protein source, too, so Charlie did eat some insects while we were there.

RW: It was one of the only times we really get to see a multiple day, over night extraction. Did the camera crew stay with you the whole time?
Dani: That extraction. It was the hardest thing I've ever had to do in my entire life. The crew was there little bit. They were filming from their kayak behind our raft. But at night all we had was our diary cameras and each other. Luckily Charlie was such a great partner, he really mentally helped me to see my fears. I knew together we were a great team. I was afraid of the predators having Charlie there.

RW: Were you happy with your beginning PSR scores and at the end?
Dani: I wasn't sure what to expect but I'm really happy about it. It was really cool to see our scores were the same at the end. I think it was the first time that's happened on the show.

RW: Do you keep in touch?
Dani: We got back July of 2014 and ever since then we've been very special friends. For the rest of my life he will always have so much meaning to me. No matter what I will always be there for him.

RW: Would you do it again?
Dani: I would definitely do it again and as of today I can officially say I did it again and it will be airing this summer! You'll see me on the Bares All episode this Sunday and they picked me for the All-Stars show which airs July 12th.
Photo credit: Discovery Channel