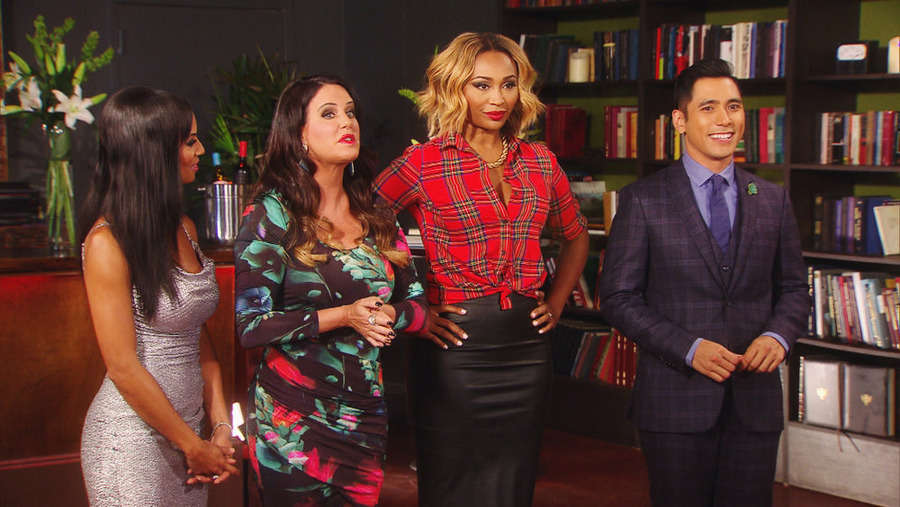 By Ashley Thompson
To mix things up Patti is setting up a runway walk in tuxedos for the men.
Kenya Moore is a 43 year old Real Housewife of Atlanta. She thinks that men are intimidated by her fame and feel they find her high maintenance. Tired of dating and tired of the non-stop proposals, she's looking to Patti for advice. Her friend, and fellow Housewife Cynthia Bailey, thinks she's a lot to handle. Patti finds out that Kenya has commitment and abandonment issues. Her last serious relationship wasn't long ago but brings her to tears to talk about. Patti wants to find someone that Kenya can trust. Her celebrity crush is Matt Kemp, doesn't want someone shorter than herself and considers herself a goal-digger... she has her own gold.
Kenya picks James, a commercial real estate agent. After their salsa dancing date and dinner there's intense chemistry, sealed with a kiss (or two). (Kenya and James are still seeing each other. They are taking it slowly, but Kenya is trusting and not looking to run away again.)
Taylor Dayne is a 52 year old singer/songwriter in Los Angeles, and single mom of 12 year old twins. She loves the idea of being with her best friend but didn't feel the same 10 years ago and has always been a career chaser. She's exhausted with the mistakes and is a believer of love. Connections are everything. Taylor feels her directness and assertiveness gets in the way. Patti wants her to pick men instead of boys and put love first. Taylor is looking for masculine and athletic guys and Patti is going to bring in a melting pot of guys.
Taylor picks Joel, a bottled water company owner and father of a 21 year old son. Patti snuck in a hint after the mixer for Joel to take Taylor to a chakra reading before dinner. It worked and they share a sweet kiss, Patti's favorite thing. (Taylor and Joel are also an item. They are dating seriously. She is hearing the song in her heart.)
Photo credit: Bravo