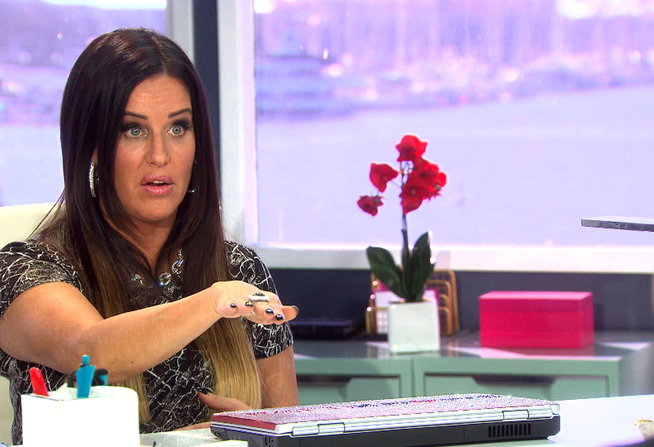 By Ashley Thompson
Julissa Bermudes is a 31 year old show host born in the Dominican but raised in Queens. She's looking for a man that can see past appearances because she doesn't want to be someone's arm candy. Since she usually puts her career first, Patti is worried she likes the alpha males. Julissa's last relationship with Larry Johnson lasted 4 years but although she wanted a power couple type relationship, he wanted her to be "barefoot and pregnant". Patti wants Julissa to start looking for depth and asks friend and comedian Tiffany Haddish to show Julissa how to be as confident in dating as she is with her career. Her celebrity crush is Channing Tatum.
Julissa picks Samuel. He showed her how much he loves the Dominican and the guy can cook, so of course there's a spark. On their date she meets him at a pottery painting shop. She's happy with the intimacy but wants more from him. But when he tried to contact her after the date, she stays focused on work. Patti encourages her to call him back pronto. (Julissa never called Samuel for another date. She has taken Patti's advice and is looking for a guy who puts her first.)
Adam O'Rourke is a 33 year old former heavy metal musician turned software company CEO. He has spend the past few years getting himself together regarding his career as well as dropping 30 pounds. He's eager for a wife and kids but needs someone with a sense of adventure, has a career and is passionate. His celebrity crush is Olivia Wilde.
Adam picks Gabriella and Haley but when Patti makes him narrow his list down, he goes for Haley, a young career driven woman who knows she wants a family. On their date he picks her up in a limo and the conversation is sparked immediately. When they arrive he tells her to get comfortable and enjoy the beach view while he cooks for her and plays her a song. This man likes to pamper, what's not to love? She obviously agrees to see him again. Unfortunately he doesn't contact her again after the date. Patti explains that texting isn't the same as contact. (Adam and haley have been seeing each other regularly. Adam is so happy he came to Patti for a fresh start in love.)
Photo credit: Bravo