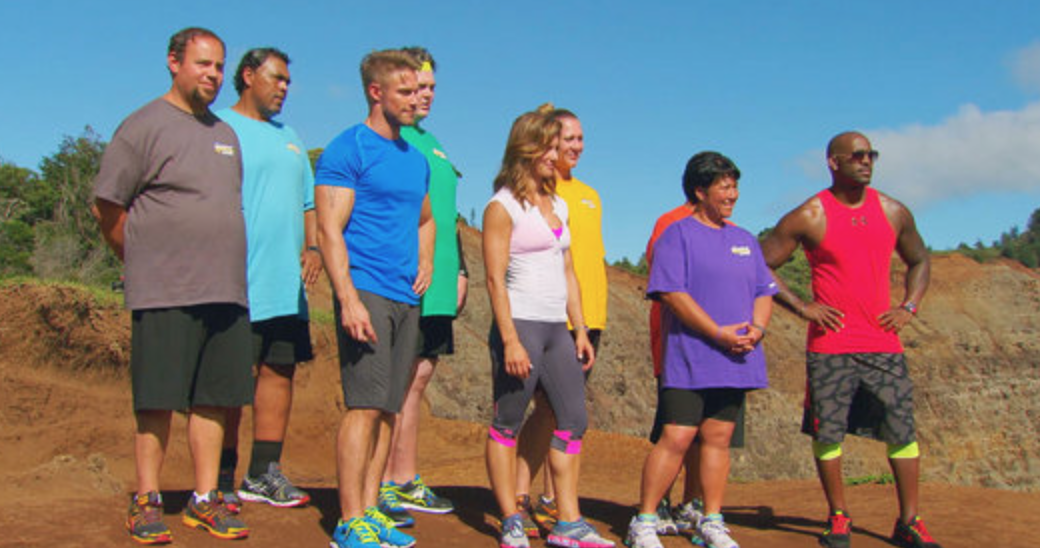 Biggest Loser Glory Days - Show recap
Okay first of all let me confess to only caring about Woody because I want to marry him, Scott because I want to marry him too and Lori because I want her to win but I will settle for my future husband Scott to win if he has to. 
Yes this season has sadly come down to a limited interested in the final six in this week's show. I really don't know anything about Toma or Jordan, Sonya's okay but she's too little height wise to win the show, Rob just needs to stop crying NOW no, last week…..no, in general…seriously unless this series is sponsored by Kleenex somebody needs to tell Rob to man the f- up. Yep, I'm sorry, I know real men cry blah blah blah and I've been guilty of shedding a few crocodile tears in reality shows myself but there is a limit. It's time to check your baggage at the door Rob and get on with it. You talk smack about winning the game but you seem the most resistant to actually changing your life.
Okay so now I've got that off my chest I can get on with the rest of this week's recap. The challenge - a kayak and puzzle piece challenge. They row 1000 ft out and back, the equivalent of 7 football fields and for those rolling their eyes saying it's not like they're running it uphill in sand, they are rowing ….yes and whilst it looks easy it is far from it with tides pulling you every which way and it kills your arms….you need a lot of upper body strength. Sonya claims to have taken her time because she was so tired after falling off but I think she guessed that the prize was not a weight penalty or immunity so I think she took her time because she'd rather be in the gym than spending time doing whatever the reward was. And she would be right.
Jordan wins and shares his prize with Toma and they take off on a helicopter ride around Hawaii. Yes that's the tourism part they have to shoot in return for all the freebies they get travelling there - hey you have to keep the lights on! 
Meanwhile back at the ranch, literally we flash to Comeback Canyon where Scott, my husband, is competing with JJ, both former footballers again going head to head to stay in the game. Sorry, JJ, my husband is staying so it's a shame but you and everyone else who comes to comeback canyon will have to be going home. Sorry Bob, but this has already been decided. 
They do a really sweet hippy trippy thing where they bury pictures of themselves with recycled seeded paper that will grow into a tree versus burning old pictures of themselves, focusing on living and embracing growth. I like it. Robb, please see Bob about some growth. Please. Plant a tree, water it with your tears if you have to but please grow. We are all waiting! Everyone else is into their "Glory Days" part of their evolution but you are stuck on day one.
Speaking of reliving their Glory Days, Lori, the three times Olympic gold medalist is in "the zone". She looks incredible and she says she remembers what it feels like to be a winner and she better get used to it because social media is abuzz with her being tipped as the winner, a fate we must wait until 2015 to find out.
Jen, the best trainer in the history of Biggest Loser again proves why we love her soooooo much. Apart from having the most incredible body ever - seriously after years of seeing women on TV with sickly thin bodies it is so awesome to see someone who is ripped and fit and who obviously has a healthy relationship with food, themselves and a great love of training. She is the best advertisement for fitness there is. Anyway, Jen, Woody and Sonya get to face their fears of the ocean and go snorkeling. And what makes Jen "our Jen" and why she is becoming the most popular trainer in Biggest Loser history (with fiercely loyal fans on social media), is that she admits she is terrified but she leads by example, with "don't let fear weigh you down" as their motto, and she slips into the water like a glorious mermaid with Woody right behind her and who has come so far in healing from his wife's death this is yet another piece of his puzzle put back together again. 
Dear Woody, I love you. Please Marry me. Love Ajay. 
PS I will wait for you……but not forever. Okay, maybe forever. But sooner would be better.
The weigh in is incredible and my guess is because of travel to Hawaii it may be a few weeks from the last one because traditionally travel always sees some pretty lousy numbers on the scale.
Sonya gets 6
Lori the legend 10 awesome pounds! Her first double digit! 
Toma 10
Jordan 6.
Woody an incredible 12 pounds gone and the surprise of the night:
Rob takes off 12 pounds. Wow. Welcome to The Biggest Loser Rob.
Jordan is going to come back Canyon where he should be only briefly as my future other husband dominates again so he can hurry up and come back to the main part of the show which must be sometime soon.
That's it for the year. Happy Christmas. Don't eat too much of everything, says the woman who put on ten pounds already and it's not even Christmas yet. Be safe, be happy, be healthy. 
Oh and if you are hungry for more Biggest Loser check out and share my AfterBuzz TV After Show where we go behind the scenes of all things BL.