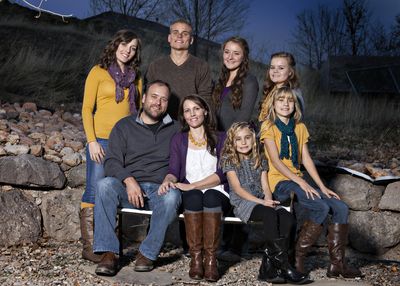 This week on My Five Wives the Brady Family celebrated an anniversary, changed the family schedule, and said farewell to one of the children.
Brady planned a surprise trip to Las Vegas for Rhonda to celebrate their 15th anniversary. But before their trip, Robyn speaks to each of the wives about changing the family schedule that has been in place for 20 years. In the rotation, each wife spends one night with Brady, but Robyn is suggesting 2 nights each, which would make an 8 day absence instead of 4. Although not all of the wives love the idea, they are willing to try it out for a couple months.
When Brady and Rhonda return from their awkward-to-watch anniversary trip in Las Vegas, Brady begins the new 2 night rotation with his expecting wife, Nonie. However, it is somewhat difficult for him because his first wife, Paulie, is alone the night before they say goodbye to their son, Josh.
Brady and Paulie's son Josh made a decision to join the mainstream LDS Mormom Church, and he is leaving for 2 years to go on his mission. Although he won't be able to call, Paulie will be able to exchange emails once a week to stay in touch.
Saying goodbye to Josh is hard for the whole family because he is a role model big brother to their family, and even the other wives shed some tears saying goodbye. It's these moments where the "plural" family doesn't seem so odd, and they just seem like a loving family.
Next week, we find out about the early birth of Brady's first grandchild, Baby Huck, who Karlie delivered at only 25 weeks. Don't miss the season 2 finale of My Five Wives next week on TLC.