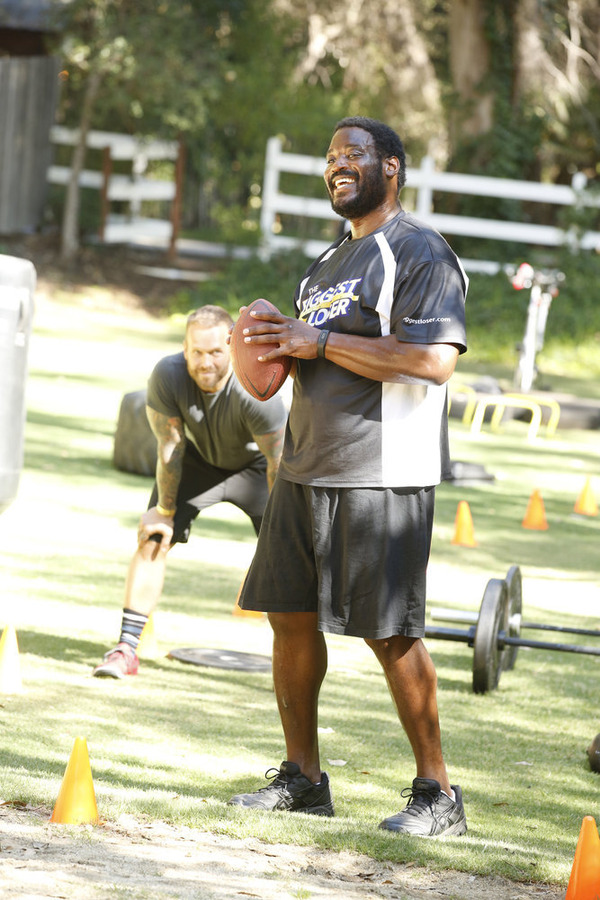 Last week we saw Damien leave Comeback Canyon and the show for good. Reality Wanted caught up with him to see how things have been now he has returned to his wife and seven kids.
On returning home he said his family were already prepped with a safe house. His wife is fit and healthy so she just helped guide the kids to a better place in creating a safe space for their dad to be successful in. 
He admitted his kryptonite was the candy Skittles, described it as having "a humungous sweet tooth", but instead of living an all or nothing lifestyle he has curbed his habit from six packets of skittles per day to 2-3 pieces per week. He described controlling his cravings as the same kind of discipline he needed to become a sportsman, overcoming the desire of wanting something "NOW" to putting the effort in to enjoy the results, LATER." Wise words from a Superbowl Champ. 
I asked him who he missed the most from this year's ensemble and he echoed the sentiments of others like Mike who said they believed this year's Biggest Loser group was different, special even...not in a way of entitlement, but in the way they bonded. Coming from backgrounds where they had to be part of a team, they quickly formed relationships that helped them keep going versus the usual competitive element most have for winning the show and the money. 
He mentioned being particularly impressed with Woody who it seems has almost been adopted by the group, sending Scott to Comeback Canyon over Woody just because he no longer has his wife to go home to. His wife's dying wish was for him to be happy and healthy and the group have taken it upon themselves to make that happen.
He also spoke of JJ as young and impressionable, he and Damien connected…JJ looked to him as a role model…and as a father of seven he couldn't help but take on a fatherly role and tried to help him as much as possible.
When I questioned him about who he thought would or even should win, he quickly brushed it away as most of the other eliminated contestants have. He said they were more like each others' cheerleaders than competition. He says noone is really outwardly going after the prize and that they were all more committed to saving their lives over winning a title or money. He was very quick to say that he felt everyone in this group is a winner...that noone in particular is going harder than anyone else, but he had not even thought about winning and truly believes the rest of the cast are the same.
I would have to say I agree with him to a certain point, however I do believe there are a few who are playing the game to win -Toma and Rob to name the two I think actually employing strategy to get further along (Toma did put on a pound in a week where their collective weight loss could have seen them all safe).
At one point he said he wished he knew what he did now, way back when he was playing football. It has made him incredibly passionate to educate players about the importance of good nutrition. He remembers when he was playing, he was burning so many calories he could easily eat 6,000 calories a day and lose weight. I asked him if anyone had ever educated him or other players about the kinds of foods to eat and the importance of changing that once they retire and he said not a single person or organization spent anytime on it. He described how you could be working one day, injured the next and out of the game. He'd been eating like an athlete his entire life and had no idea how to do anything but that.
He wants to educate players during their playing careers and even before, get them while they are young enough to establish good habits, teach them how to cook, how and what to eat, give them the tools, working with the National Football League...he says there are a lot of guys out there not just retired but players who could benefit from changing their habits, not just combating future obesity but helping them to train and recover better. 
He wasn't surprised at having to leave the game because he had lost albs and 11 pounds over the two weeks before……he wished he'd have banked some pounds the next week  because as soon as he knew Scott had not lost anything the week before, he knew it was likely he was going home…especially approaching his goal weight…(nearly a hundred pounds down from his starting weight)
He laughed at how quickly it became football camp with Scott and Damien having played for the same team but in different eras…..He explained that they were able to work so hard at Comeback Canyon because their fitness was so improved from when they first arrived on the show. He further explained how Jessie workouts were tough for him cause he wasn't used to that high level of cardio but by the time he got to Bob he was in better shape so he adapted to the cross fit much more and really started to like it.
He was also the first person there at CBC who wasn't injured…so he felt that Bob had more to work with so he was much more able to use his normal style of training on him and Scott.He'd been adapting with pool and bike workouts for weeks so he was so happy to have two fit, strong competitive football players ready to relive their very own Glory Days.
These days he is back on TV and feels much more comfortable tweeting many before and after photos of himself and commenting that his friends and co workers no longer recognize him. The biggest change he has made is that he plans his day around his workouts and not the other way around.
He is happy, healthy and determined to spend the rest of his years helping players live a better life. He said, "this is a tough game we play, there is no need for it to ruin the rest of our lives after we stop playing." And that is why we love Damien.
Photo credit: NBC