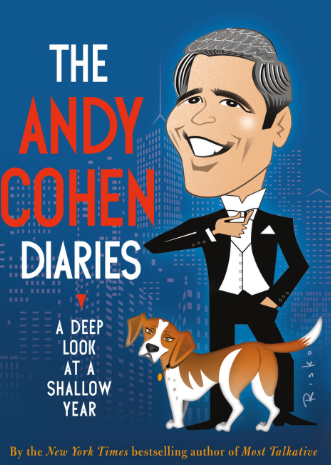 Bravo's "Watch What Happens Live" host Andy Cohen is opening up his journal in "The Andy Cohen Diaries: A Deep Look at a Shallow Year."
Confession: I love Andy Cohen.
Confession: I hate Andy Cohen.
Confession: I'm totally jell of Andy Cohen's life and career.
Confession: I want to be Andy Cohen.
Confession: I hate that Andy Cohen is not my bff.
Confessions: I hate that I even want Andy Cohen to be my bff.
That said, it's hard to hate on Andy Cohen cause what's to hate? And let's be real, there's enough haters out there on the twittersphere for all of us to leave that to them. But that hasn't stopped Andy from confessing to things most people would really keep to themselves and yet I find myself loving him even more for it.
For example, Andy launches straight into his indecent "desire" for the old man living in the apartment above him to pass on so he can then buy the apartment and makes his a duplex. After the first guffaw of horror and at each subsequent mention of his guilt and pleasure at hearing of the old man's illness worsening you can't help but love this awful and yet irreverent honesty. It's brutal but endearing. 
And the same goes for the rest of his newest book, no doubt destined for the Times best seller list because I couldn't wait to get my hands on it. I needed, no, like REALLY REALLY needed to know who peed in a bucket in their dressing room of Watch What Happens Live. I thought it was going to be Bethenny or Justin Beiber (oh that's right, he did that in a restaurant somewhere else) but SPOILER ALERT, hearing it was Lady Gaga was almost enough but then I found myself sickeningly delighted to hear that Andy was not content to just outing her in his book but  he then goes on to describe in full details, his intention of not just bottling the pee and putting on the shelf of his TV Clubhouse but went so far as having an assistant try to turn it into Pee-fume. OMG. It's just ridiculous and wrong and funny and a page turning hit as he annoyingly name drops but then admits he was going to call his book Diary of a Name Dropper so you can't be mad at him for calling it like it is, over and over and over again.
And just like that he has written something, which is really nothing and therein lies the rub…it's a great binge read that leaves you wanting more, more , more…a little like cheap Chinese food - feels great at the time but leaves you with a slightly sick feeling followed by unexplained hunger 30 minutes later. I loved it. I hated it. I loved it. I wanted more.
The book, published by Henry Holt and Co., is inspired by "The Andy Warhol Diaries," published after the artist's death and went on sale today.
Ajay Rochester is an author of five books (Random House) including the best selling Confessions of a Reformed Dieter. She is the former host of The Biggest Loser Australia and wants Andy Cohen to give her her own reality show. She lives in Beverly Hills with her son Kai. Her website is http://www.findingmymojo.com
Twitter@ajayrochester