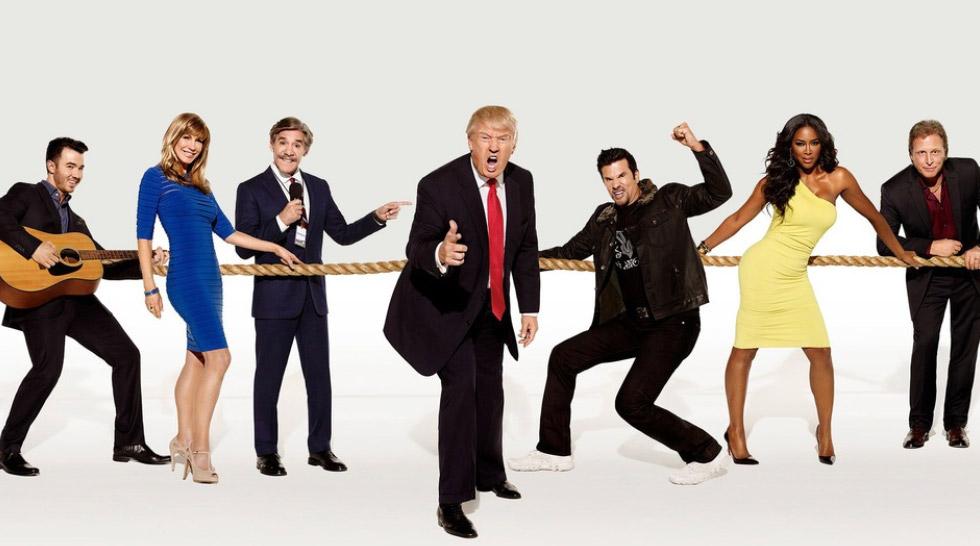 It looks like Donald Trump, executive producer and star of NBC's "The Celebrity Apprentice," is not quite ready to run for President of the United States yet and instead has re enrolled in yet another season of his world wide hit. Like any "celebrity based show" it has a number of emerging celebrities, C and D-Listers, some who the heck are they and a smattering of the where are they now golden oldies. There is no doubt this show has helped many "celebrities" including Arsenio Hall, Dennis Rodman and Stephen Bladwin reignite their careers while it has certainly helped others like the infamous Omarosa launch theirs. 
Over the course of the series, "The Celebrity Apprentice" has raised over $14 million dollars for charity.
This season's "The Celebrity Apprentice" brings 16 diverse celebrity contestants to compete in business-driven tasks around New York City. Contestants will endure challenging tasks that test their ability to work together while ultimately raising money and awareness for their respective causes. Fans will be able to binge watch the show with two hourlong episodes, two boardroom showdowns and multiple firings airing every week.
"This season of 'The Celebrity Apprentice' is on point to be the best yet," said Mr. Trump. "With 16 extraordinary contestants bringing their energy to the boardroom, it is sure to be a hit, as always." Well, of course he would say that but the line up certainly left the general pupils a little underwhelmed with news of the new cast yesterday with plenty of social media questioning who some of the cast mates are.
Perhaps they understood the lack of star power and as such have brought in previous "The Celebrity Apprentice" winners returning as advisors, including what will no doubt be the most anticipated and highly watched episode of the season with the late great Joan Rivers, who appears in two of this upcoming season's episodes. Rivers won the second season of "The Celebrity Apprentice" and impressed Mr. Trump with her incredible work ethic and unbelievable energy. She also infamously walked out on the series when her daughter was blindsided and eliminated by what Melissa referred to as "Nazi sympathizers". 
Piers Morgan, the winner of the original "The Celebrity Apprentice," also returns as an advisor and is no stranger to on air fighting which he almost prides himself on so if there is too much of a love in going on he will be sure to stir things up. Other previous winners include Bret Michaels, John Rich, Arsenio Hall and last season's All-Star winner Trace Adkins.
The lineup of women include Gold Medal Olympic snowboarder Jamie Anderson; movie star Vivica A. Fox; best-selling author and television icon Leeza Gibbons; reality star and best-selling author Brandi Glanville; TV personality, author, and mother of eight, Kate Gosselin; world-class gymnast and gold medal Olympian Shawn Johnson; Kenya Moore, former Miss USA and star of "The Real Housewives of Atlanta"; and television icon Keshia Knight Pulliam.
The lineup of men joining the competition include two-time World Series champion Johnny Damon; actor and legendary comedian Gilbert Gottfried; Sig Hansen, the star of "Deadliest Catch" and Captain of the Northwestern; Grammy Award-nominated and multi-platinum musician Kevin Jonas; Golden Globe-nominated actor Lorenzo Lamas; NFL great Terrell Owens; award-winning journalist, author, and talk show host Geraldo Rivera; and television and movie actor Ian Ziering.
I predict it may come down to an all female showdown with Brandi Glanville and Leeza Gibbons fighting it out because Leeza certainly has the old time Hollywood connections in her address book but Brandi Glanville has the survivor mentality and should never be underestimated. 
I predict a fiery season amongst the reality stars who know what makes compelling television. Each contestant has a chance to be named the "The Celebrity Apprentice" and have the honor of delivering a $250,000 bonus check to their designated charity. 
This will be the seventh series of Celebrity Apprentice and  the new season will premiere on NBC Sunday, Jan. 4 from 9-11p.m. ET/PT before settling in its regular time slot, Monday at 8-10 p.m.
Photo credit: NBC