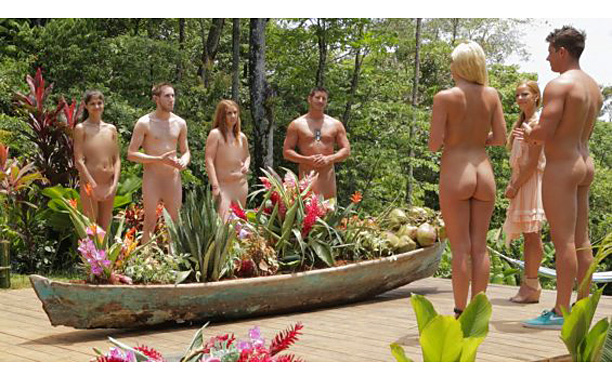 Are you single? Sick and tired of the people you're dating hiding behind fancy cars and designer clothes? Want to get to know someone for who they really are, warts and all? Want to know the naked truth of your potential mate? Want someone with literally nothing to hide? Then Dating Naked on VH1 may well help you find your soul mate with the next season casting now.
According to most reviews of the show , it's just like any other dating show, just with a little less time spent on wardrobe and perhaps a little more time spent on hair, makeup and conversation. Yes, you will be dating. Yes, you will be naked. You will be Dating Naked.
And this is not just some fluffy show about people running around doing fun stuff in the nude, although there is a lot of that including naked zip lining, which really, who hasn't wanted to give that a go?  It's not even a gratuitous perve fest because all the best bits are blurred out and despite some people making fun of it, some contestants have found love on the show and even gone on to get married so you never ever know if you never ever go - Commando!
I thought about tips for being on this show and I guess, "Be Yourself" would come up first, followed by choose the guy with the biggest feet, start reducing your carbs now, don't take Viagra before filming……..but most of all, don't take yourself or life too seriously. Have fun and while you're doing that why not do it with your clothes off? This is a great opportunity to travel, have some fun, meet some awesome also naked people, maybe fall in love but if not have an incredibly liberating experience not many others will ever have the chance to enjoy.
So give love a chance and apply now. Your future wife or husband may well be waiting for you
http://www.realitywanted.com/call/30691-vh1s-dating-naked-now-casting