L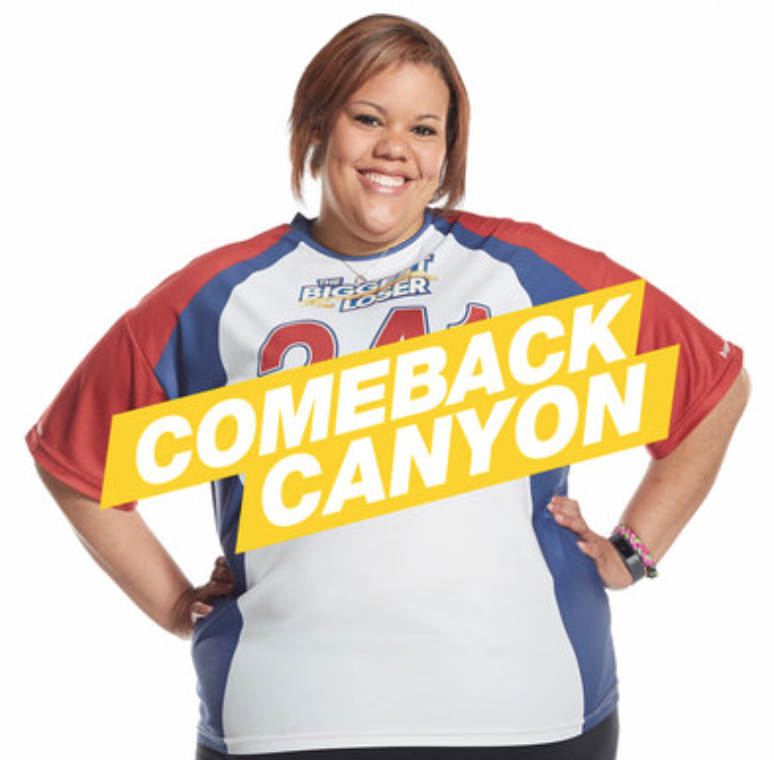 ast night's episode of Biggest Loser Glory Day's saw Chandra leave Comeback Canyon and head home after being replaced by Mike.
We caught up with her today to see how she was coping and she was full of life, healthier than she has been in years and hopeful for a future helping others. Tinged with a little sadness as it was nay yesterday that her grandfather was re diagnosed with cancer but in typical Chandra style, she explained she went to him and said, "You told me to keep fighting and I will, but you have to fight too."
She went on to explain that fighting legacy, the bloodline of National Champions in her family, her father a boxer who could have gone all the way, her mother a natural at every sport. She was never forced to do sport but at the age of four was already playing basketball. She laughed and said her mom did try to enroll her in ballet but explained she was having none of that, felling comfortable with a basketball in hand, she had plans to dominate the WNBA when an injury left her sidelined and doctors told her she would never play sport again.
I asked her how difficult it had been to identify as a non athlete in a family so steeped in sporting traditions and she said it had been extremely difficult, not so much made that way by her family, who have always been supportive, but more in not knowing who she was outside a realm she had always felt so at home in. Food became her obsessions and she laughed that her go to food was once Chicken Pasta Alfredo with Cheesey Garlic bread and after her first painstaking workout at the ranch followed by the killer hill that she she "the camera did not justice to" she vowed she would never ever put that kind of food in her body again because working it off was just way too painful." Her new must have go to food she craves daily is grilled chicken or fish and spinach salad and with 54 lbs gone (that she will admit….she won't give away any real details till finale).
I wanted to know how different Comeback Canyon was to being at The Ranch. She explained it WAS easier to focus on her own needs at "Comeback" without the distraction of other people and without having to film so many other segments. But having only one other person there, and knowing that that person was not there to be her friend but in her words, "was there trying to bring you down" really helped her keep going. The downside was that with not so many people there and with not a huge presence of trainers telling you what to do it was harder to keep going and to change up the training to keep it fresh. Without saying just how much Bob was around each day (I'm guessing he probably isn't around every day and perhaps is really only there a few hours a week to film), she hinted that, similarly to how he did it when he filmed in the Australian version when I was the host (Bob and Jillian filmed the the first two seasons) he simply left a " workout recipe" for when he wasn't there…which for Chandra was don't stop working out until you have burnt x amount of calories which for her usually mean working out around 6 hours a day.
Home now and back on the court as a college basketball coach, she said she is loving that the girls she coaches are happy to have her able to demonstrate and play with them, really helping them develop their skills as any good coach should. She is confident she will not have the family illness of diabetes, she feels she has been given a second chance at life and she hinted at wanting to help others heal their life as she is doing on Biggest Loser, for which she is extremely grateful to have been a part of.