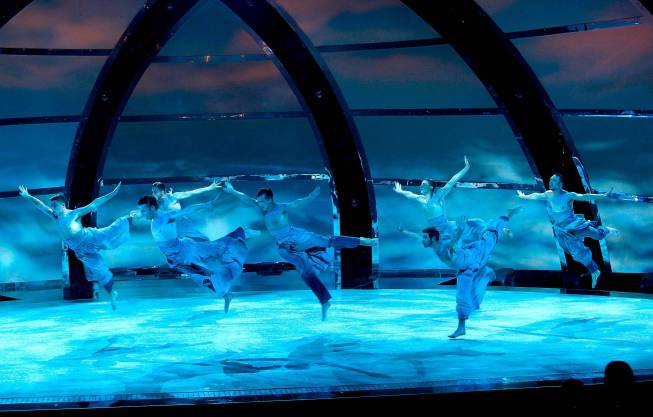 By Ajay Rochester
This is the week that brought us the top 10 dancers for season 11 so there was tension in the air as four dancers would be going home.
Stacey Tookey opened the show with an ethereal group number about heaven, with dancers being thrown through the air which became a precursor to the night with many of the contestants taking to the air in leaps and dives and even pre arranged falls off the edge of the stage. I guess with pressure on to be the last ones standing, the dancers are willing to take more and more risks in an effort to impress both the judges and the at home voters.
The bottom six were announced and only two would survive. All six were complete couples. Emily & Teddy,  Carly & Serge, Casey and the dancer labelled by Nigel as the "kiss of death" Jessica, who has lost her partner to elimination every week. 
Bridget and Emilio opened the show, dressed as red devils, with a Jazz routine by Ray Leeper that Nigel described, as "fabulous" with Nigel also declaring "the song may be called the Long Road to Hell but it won't be the Long Road Home." It seems he was right because they were safe and in the top ten already.
Tanisha and Rudy, also safe, did one of the most popular dances of the night, Mary Moore choreographing an extraordinary piece that saw Rudy balancing Tanisha over his head by just one extended arm. Not only did it receive a unanimous standing ovation by all three judges but had Mary screaming and left special guest judge Christina Applegate speechless. 
All six of the dancers up for elimination did a solo and Serge was the first to take the stage to do, what in effect, was dancing for his life. In hindsight, it appears he made a strange choice in not doing a pre choreographed dance routine but instead seemed to improvise the male part of a latin dance.  Sadly it was not enough to save him from being cut and he won't be moving on.
Jacque and Zac, both a confirmed top ten, took to the stage to do a spectacular Dracula inspired dark and sexy Paso Doble, choreographed by the always entertaining Jean-Marc Generaux, where Jacque took the form of the bullfighter's cape and was thrown around the stage and Zac's body like a living prop.
Carly, bottom six, then did one of the most spectacular dances I have seen all this season, her solo, which, when I talked to her backstage, she admitted she had pre choreographed before coming into the competition in case of her having to dance for her life. Unfortunately, it didn't impress the judges enough to save her and she too leaves Season 11.
Then came the first unsafe couple to do their dance. Teddy ad Emily did what Nigel described as a "messy" old Hollywood Gene Kelly inspired Broadway dance choreographed by Warren Carlyle. Perhaps the nerves of being in the bottom six got to them because it was messy and out of synch and failed to give them another week in the competition and both were subsequently eliminated.
Then came the dance of the night with Kiss of Death Jessica and Casey, the inspired Travis Wall putting together a Romeo and Juliet-esque contemporary piece that saw Christina cry and both Nigel and Mary declare that the curse was over, for she finally had a partner who can highlight and compliment her own talent and expertise.
Teddy's solo was also spectacular, also pre choreographed before coming on the show, but again it was not enough to keep him in the show and he too found himself on the chopping block.
Carly and Serge performed the second Jean-Marc Generaux piece, a quickstep, which Nigel was quick to point out, that even though Serge's background was in ballroom, the quick step is not Latin based and therefore as hard for him as any of the other dancers. The judges were kind in their comments but it seemed they just weren't blown away as they had been by some of the earlier pieces in the night. It foreshadowed the news that they too had not made it through, leaving Jessica and Casey standing as the last two who will go through to the top ten.
The show closed with a spectacular and crazy Hip-Hop routine by Pharside and Phoenix, with Mary calling Valerie "Tappy McTapperton" and referencing the fact that so far, no genre has been a killer for this mutil talented tap dancer. Not to be outdone in the praise, Nigel made the bold statement that Ricky was the best technical dancer EVER in the history of So You Think You Can Dance.
Before announcing the four who would go home, Nigel also revealed that even though the dancers had technically "danced for their lives", nothing they had done would change the outcome as the judges were in agreement with America's vote and would not be changing it. It seems the So You Think You Can Dance viewers know their stuff.
And so the Top 10 of Season 11 are: Bridget, Emilio, Tanisha, Rudy, Jacque, Zac, Jessica, Casey, Valerie and Ricky.
The four to leave are Teddy, Emily, Carly and Serge. 
We caught up with the final four the day after to hear their thoughts and find out was was next for them.
The one thing they were in all agreement with was they had NO regrets and all were excited for their futures now the she was over. However, each dancer lamented on which All Star they dreamed of being paired with had they made the top ten next week. Serge hoped for Kathryn McCormick, Emily- Alex Wong, Carly- Robert Rodan and Teddy, who despite entering the show as a hip-hop dancer is also a talented tap dancer and explained he would loved to have danced with either Kathryn McCormick, Witney Carson or, in his words, "if not those two then any tap dancer". 
I asked if they could or even would have done things and Teddy summed it up this way, "I'm sure we COULD have done things differently, but I don't think we would. It really pushed us past our limitations and boundaries and after this we could do anything."
I asked them what they had learnt most from this experience and how they would apply to to what they do next and Emily described her last month like a serious Boot Camp in all things dance and professionalism. She felt they had all grown as dancers and individuals and she feels so much more prepared to tackle the industry with the knowledge and strength she gained from the show.
Carly said her biggest lesson was in learning to trust yourself and be confident in what you are…..to not be overwhelmed by anything, and to just enjoy the process because, quite literally, it could be all over the very next day.
Serge, a latin dancer used to just working with a single partner, felt that working with a group had broadened his experience in many ways, enjoying the energy a group can bring to a project and said he will try to bring that energy and focus to any future projects.
Teddy said he learned to never be intimidated by others and to always be inspired by them, "What you do is completely different to what the next person does…so you can just watch and learn and grow, because once you are intimidated that's when you stop so always keep that positive attitude."
I asked each of the dancers, "What now?"
Serge is hoping me might join his friend Max and become a team member of Dancing with the Stars.
Emily has a business degree  and has created a dance fitness class which has been picked up by an athletic apparel company and they will be taking it to colleges around the US.
Carly spoke enthusiastically of joining Travis Wall's dance company and said that she wants that "more than anything" but was open to anything really, as this was her first foray into the professional world of dance.
Teddy is planning to move permanently to LA. He spoke at length of his desire to one day work with Janet Jackson and has a burning to desire to be a big part of the music video industry, not just as a back up dancer but quite possibly with a career of his own. During his senior year, he did music and singing and according to Carly, has quite the voice on him, so maybe, we've just seen the new Timberlake take his first few professional steps.
And so it seems that this is not the end for these incredible dancers who, despite not making it to the top ten, will always be Season 11 alumni and I have no doubts we will see them all in new roles very soon.
Photo courtesy of FOX