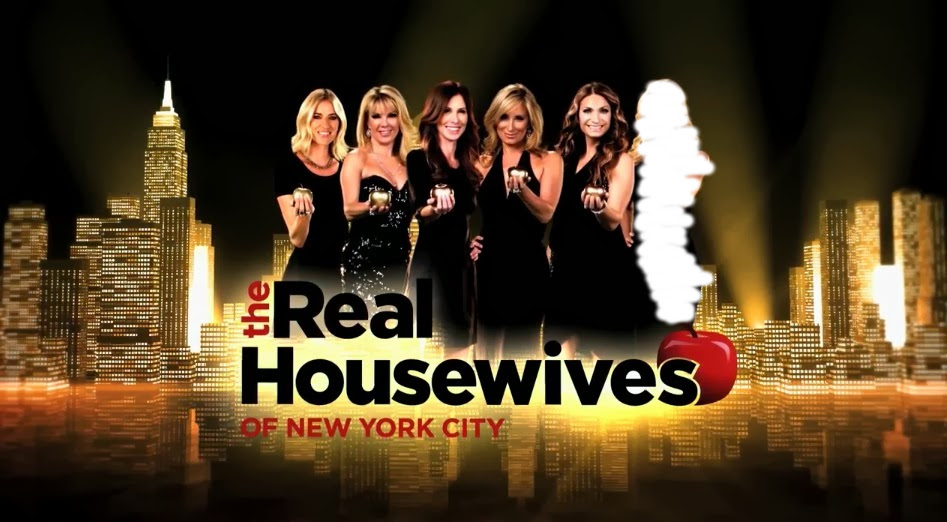 Just as the sun was setting on the Aviva Drescher/Carole Radizwill ghostwriting scandal #Bookgate, all seemed to be returning to "normal" in the lives of The Real Housewives of New York……well, as normal as life can be on this larger than life drama filled reality show. 
But scandal seems to be the centerpiece on Bravo this season and Andy Cohen has come out swinging - and no, I am not referring to a recent hair pulling, punch throwing "other" Housewife Reunion altercation that graced our screens a mere two weeks ago but a whole new fight, and this time it's Andy who seems to be pulling all the punches.
Earlier today a blogger by the name of Naughty But Nice Rob (http://www.naughtybutnicerob.com) broke the "news" that Aviva Drescher was fired…well, that was the headline he led with, much like we did here. Cheeky I know, but it got you in, right? He then went on to clarify that she was "fired" by Bravo for a mere three episodes for not going on a trip with the other women but would then return to the show as normal…..wait..whaaaat? She's fully fired? Semi-fired? Demi-fired? Is there such a thing even? You're either a Housewife or you're not. It's not like the other women are not going to be talking about her behind her back. I mean, come on! She's still going to be "in it". Or is she? I mean, what about that lone leg lying on the floor we saw in all the promos pre season? We have to find out how the leg came off...who/what/where/when/how and why of #LegGate MUST be addressed! You can't just leave us hanging! Pun very much intended!
What's not really pertinent to what follows next, is the reason Aviva didn't go, which was, as an amputee and suffering from severe anxiety and asthma, she just didn't have it in her to go at that time. Those women are hard enough to keep up with at the best of times but those glamping trips are pretty rough and tumble. I can't imagine trying to do it on one leg, so good on her for standing up for herself, no pun intended.
What is more interesting than anything else, is this blogger Rob then revealed that for the first time in the HISTORY of Housewives, Aviva Drescher would have her "golden apple" taken away from her in the three episodes she "chose" to not appear in. Yes, that delicious, enticing apple those sexy sirens hold out, to tempt you to watch them at the beginning of every episode, can, apparently be given and taken away at the whim of whoever it is that decides such things. And who is that? Bravo? Universal? No, it is now confirmed, Andy Cohen is God. He is the ruler of Bravo's Garden of Eden and with these ever so powerful apples he bestows upon his often unruly Eve's, he is now sending them all a very clear message to take heed: he can (and will) giveth and taketh awayeth as he so pleaseth.  (Wipe screen now).
I have to say, it's a little hilarious. Did Andy just pack his "big boy toys" in his bag and leave the playground? Or is there more to it? The more I pondered on it, the more I became intrigued by it. Now for the record, I don't actually know if it was Andy Cohen specifically who even decides such things, but he IS the executive vice president of development and talent at the Bravo cable television network and he is executive producer/face/creator of Housewives, Watch What Happens Live and the Housewives Reunions and let's be honest, if he could be an actual  Housewife as well, we all know he would (read his own brilliant and quite possibly NOT ghostwritten memoir "Most Talkative" and you will understand what I mean). 
Who else would be the one with all the apples in their barrel and have the power to give and or take them away in one fell swoop? And if the apple cart can tip so easily, was it #Bookgate that tipped it? Of course not, Andy knows that was great TV.  Was it simply the fact that Aviva just didn't go on the trips and this ticked him off, so he reminded, not just her, but EVERYONE that they might be the Housewives of the Big Apple but Andy Cohen is The Big Cheese of the Housewives? I think so.
And if this precedent is now set, how will we see it effect other Housewives in the future? Will the trouble plagued Teresa Giudice, no longer the apple of anyone's eye, lose HER Golden apple after all her recent legal woes? What about self confessed bad girl Brandi Glanville? Is someone gonna come and wrestle that fruit from her womb? Eugh, erase that image now. Is the threat of losing their precious Golden Apples a desperate but well intentioned attempt on Cohen's behalf to improve and restore what seems to be too many fast talking fist flying hair pulling housewives' with rapidly eroding "core" values? Yes I went there! BOOM!
And what does it mean for the greater good of the world in general when a Housewife loses her gosh darn Golden Apple? I can see #GoldenApppleGate trending already and I wanted to be prepared for what I know will be an angry army of Bravoholics wanting to know what's going on? What's going on Andy? Dish up the juicy gossip!
I needed answers! So I started asking around. A colleague of mine at Reality Wanted went straight to Bravo PR but at this stage in #GoldenAppleGate they are not issuing an "official" statement. But my friend didn't stop there, she reached out further and got her spies asking questions and this is as much juice that she could squeeze from this soon to be day old fruit….haha sorry but I'm having too much pun, I mean fun, here. 
This is what her sauce...hahaha, sorry, "source" said during their conversation:
"She's (meaning Aviva) not being fired."
"She wasn't able to attend a trip. You know, she's not in the episodes. She's not in the opening credits... it's very simple." 
My friend: Will she be getting her Golden Apple back? 
"She's coming back. She'll be back this season. She's just not in the next couple episodes." 
So let's deal with one "statement" (again, not "official") at a time. "She's not being fired." Phew. Thank Goodness. She will still be able to put food on the table for the apples of her own eye, her beautifully dressed blended family. 
Next: "blah blah blah blah.... she's not in the opening credits…it's very simple." 
Wait. Whaaat? You've had women turn over tables in restaurants, tearing each other's weaves out at any given chance, you have lewd, drunken, lascivious displays of the very best of the very worst of people behaving badly (god I love these shows) and you have never ever ever taken away an apple nor taken a wifey out of the opening credits mid season - not ever and you are starting NOW? This is not America's Next Top Model Wife. We're not voting them out week by week to have a winner of the Golden Rolling Pin at the end or did I miss something? Tyra's not going to come in, judge a bake off and hand them their best selfies from the week gone by although I would probably watch that too. I'm sorry but that answer just doesn't cut it. Not in halves nor in quarters.
Which brings me to the next and most important question….Will Aviva Drescher get her Golden Apple back? And after tonight's episode saw Ramona Singer hurl a glass at fellow Housewife Kristen Taekman, in turn cutting her face, should she not now lose HER apple or is some behavour more condoned than others? Geez, Andy, think you've opened a huge can of worms here...or maybe even bitten off more than you can chew...haha...
Or more importantly, have we all just been told that this is really NOT about any of these women or what they may or may not do at any given time, because let's be real, Aviva is far from the baddest apple in the box, nor is she even close to being rotten to the core, but what this is REALLY about is what we've secretly known all along - the Real Housewives of EVERYWHERE and ANYWHERE are NOBODY without God, sorry, I mean, Andy Cohen, and he is making sure THEY/WE remember just WHO is driving these glamorous little piggies to market - HIM. HE is the butcher, the baker, the candlestick maker, all rolled into one and we better not forget it….and yes, I may well have finally run out of apple puns. Breathe a sigh of relief on all accounts.
I look forward to an official statement from Bravo as #GoldenAppleGate ferments over the next three weeks (haha I had one more in me).
Tell me, who do you cider with? Yeah, I know….I went too far. I do that!
-This article was written entirely by me, Ajay Rochester and I had no help from any ghostly entities or paranormal activity
Photo courtesy of Bravo
-Ajay Rochester is an author, mother, and former host of The Biggest Loser Australia - self confessed Reality TV addict.