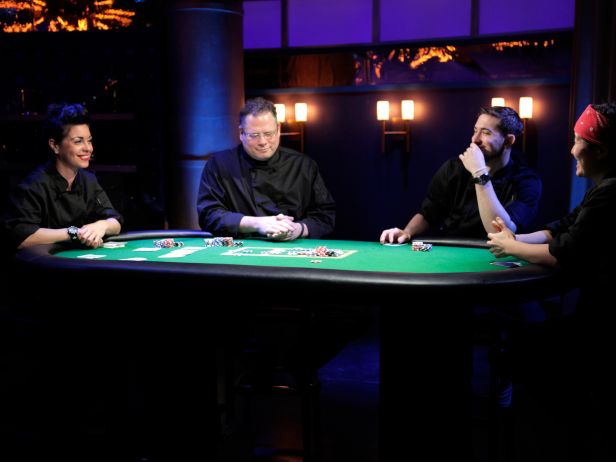 By Ashley Thompson
The four chefs betting to win the $30,000 jackpot this week are:
Shawnee, 40, chef/caterer
Damien, 38, chef
Vicki, 40, chef/owner
Kevin, 40, executive chef and partner

With comparable age and experience, it is inevitable that someone will go bust. During the chef slot machine round there are three categories (cuisine, ingredient, and theme) that must be used as inspiration for the first dish. Tailgating with a spanish waffle... figure that one out. To up the ante, another spin on the slot machine reveals a mandatory ingredient that must be included: salty, grey and slick. So... a slug? How about anchovies, sardines, squid, or salmon skin instead? Wait, salmon skin?? First one to bust with a score of 4 out of 10 for her potato omelette and spanish waffle is Chef Vicki.

The second round is chef roulette. They have 40 minutes to prepare a dish with one specific protein of beef short-ribs. When the buzzer sounds the stage rotates and each chef will have to prepare someone else's dish. The twist is that every ingredient at the station has to be used and the chefs have no idea how many times the buzzer will sound. After two rotations each chef is back to their own station, with no one being sabotaged... unless you count raw quinoa, chocolate blueberry sauce for short ribs, and pureed fennel. But when the buzzer sounds once more, no chef gets to finish their own dish. The second person to bust with a score of 4 out of 10 with her chocolate short-rib with fennel sauce is Chef Shawnee.

With only two chefs remaining we enter the chef poker round. Each chef gets three cards that reveal ingredients that each chef has to use in their dish; chicken, nopal and parsnips. Um... what is a nopal*? Then each chef is dealt another two cards, unique to them, to either stay or draw. Chef Damien holds with cream cheese and root beer. Chef Kevin draws one, and finally stays with brie and blood sausage.

The last chef to bust with a score of 6 out of 10 with his stuffed chicken roulade with five-spice root beer reduction is Chef Damien. Leading Chef Kevin to his final gamble. His final score has been totaled to $8,000 and he can either cash out or take a turn on the high rollers wheel. Deciding to take his chances he rolls a push, leaving his total at $8,000... technically still a win.

*Nopal is prickly pear.
Photo courtesy of Food Network