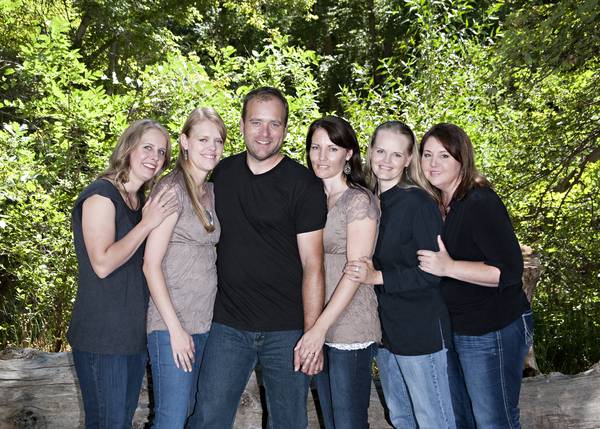 By Bo Sellers
Sunday's "My Five Wives," once again, delved into some very relatable, and very real issues.  Every week I find myself totes surprised with how much I have in common with such an untraditional family, while simultaneously fascinated with issues specific to plural marriage.

The wives got together and decided to tell Brady he needed to have a lil chat with the boys about general manners, but specifically at dinner time.  The Williams' boys were resistant at Brady's request to wear shirts at dinner time, not quite understanding the necessity but agreed to comply.  They all shared a hearty giggle when Brady told them they needed to desist farting and burping in front of their sisters because it isn't "gentlemanlike."  By the end of the episode the boys had cleaned up their act for dinner time.  While the mothers were grateful, they seemed skeptical of the lasting effects of one talk from Brady and admitted it is something they'll need to aggressively reinforce.

As Rosemary's twenty-year anniversary approaches with Brady, the discussion of "anniversary rings" caused some drama within the family.  Brady gave Paulie, his first wife, a ring for their twentieth anniversary, so it had been decided each wife were to receive a ring for her twentieth as well.  When Robyn's twentieth arrived, she felt slighted by Brady as he had not purchased her ring in advance and executed as an afterthought.  Even though much time as gone by, Robyn was still affected and decided to broach the subject with Brady while Rosemary joined for moral support.  Brady promised he would come up with something special to make it up to Robyn leaving all well in love and polygamy.

We continue to follow the storyline of Rhonda's breast cancer scare.  She received a mammogram in Sunday's episode and while she hoped to hear no further exploration was necessary, her calcified lumps in her breast have grown and a sonogram was ordered by her doctor.  The wives gathered to support Rhonda by cleaning her house and pampering her during the process, showing us all that the greatest benefit of a huge polygamist family is definitely found in the love and support.


Photo courtesy of TLC