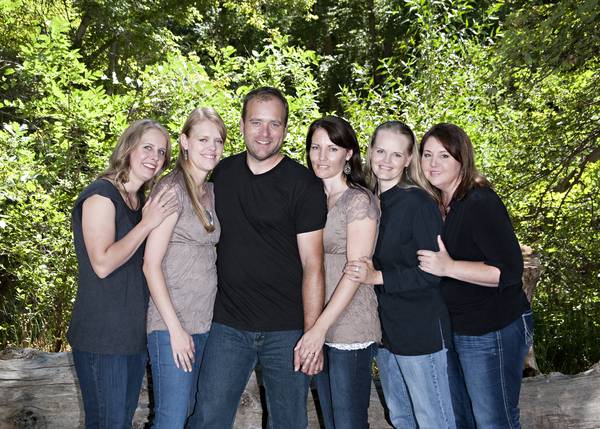 By Bo Sellers
Sunday night on, "My Five Wives," we joined Rhonda and Brady as they celebrated their ten year anniversary, four years after it occurred.  Obviously there's going to be a few scheduling conflicts when orchestrating twenty-four kids and five wives, but nonetheless, they finally made the time to vacay.

Brady's dad Rod was introduced at the beginning of the episode via a totes hilarious video-chat sesh where Rod couldn't seem to get himself in frame.  Even though I was giggling through it, I was quite impressed Rod managed to get on a video-chat call, as my own grandparents hardly even know what a computer is.  During the call it was decided Rhonda and Brady would make the journey to Washington for their long overdue anniversary.  One of the numerous perks to having five wives?  Built in babysitters.

Once in Washington the two enjoy quality alone time, as any traditionally monogamous couple would.  We witnessed Brady being quite the gentleman.  Watching Brady romance Rhonda over dinner, as they reminisced about yesteryear, opening doors for her, and giving her a piggyback ride, melted my heart with happiness.  Brady has more love and devotion in his soul than some people are able to project on even one significant other.

Always an emotional roller-coaster, "My Five Wives" took me straight from gushy "I want a Brady of my own" thoughts to "OMG WTF HAHAHA Are you effing serious?!," as Brady donned a kilt to go hunting for Sasquatch with his dad, Rod.  Rod decided to go commando on the adventure and stripped to his underoos right on camera while his shy, first wife and Brady's mom, Stella, looked blushingly onward.  I was slightly surprised to see any embarrassment from a woman who married a man with a fetish for hunting Big Foot, but it was totes endearing.  After projecting the Sasquatch mating call in the wilderness, which actually sounds a lot like myself while getting my poonahnah waxed, Rod joked how if the two encountered a female Big Foot, she'd make a great sixth wife for Brady.  Brady rejected the idea as he has no interest in "pendulous breasts."

One of the dominant story lines of the family's possible move continued as Rhonda and Brady looked at properties in Washington.  Feeling slightly left out, the homebound wives gathered to express their continued desires and concerns for a family relocation.  Choosing not to wallow in their sorrows over Rhonda and Brady's venture, the homebound wives enjoyed wine-tasting at Rosemary's, reminding us that girls, really do, just wanna have fun.  I hope next week the wives have a tequila party and play strip-poker.  YOLO.
Photo courtesy of TLC